January 9, 2018 - 3:31pm
Byron-Bergen students compete in district's annual National Geographic Bee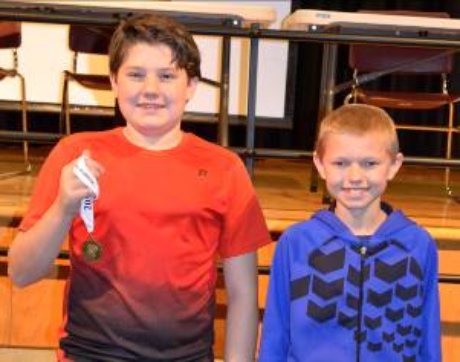 (Above photo: Byron-Bergen Jr./Sr. High School National Geographic Bee champion Matthew Tanner, left, and runner-up Nicholas Zwerka celebrate their achievements.)
Submitted photos and press release:
Students from both Byron-Bergen schools proved their mastery of geography on Jan. 4 as the school hosted its annual National Geographic Bee competitions, sponsored by the National Geographic Society.
At the Jr./Sr. High School, after an exciting battle of wits and global knowledge, Matthew Tanner was declared the Byron-Bergen Geographic Bee champion. He was given a medal and awarded a $30 Amazon gift card. Runner-up Nicholas Zwerka received a $20 Amazon gift card.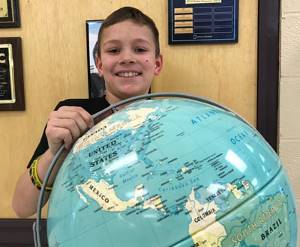 (Inset photo, left: Student Jack Farner is the top winner of the Byron-Bergen Elementary School's National Geographic Bee.)
At the Elementary School, the title of Geographic Bee champion was awarded to fifth-grader Jack Farner, who edged out fellow fifth-grader Jackson Lundfelt for the honor.
Participants from both schools qualified for the Bee by achieving high scores on a test taken in December. Both winners will now take another written test, which will be submitted to the National Geographic Society. If their scores are among the highest in New York State, they may be invited to participate in the state competition. State winners go on to the televised national bee held in May in Washington, D.C.
The school is very proud of all the contestants.
Jr./Sr. High School participants included — Seventh grade: Molly Belknap, Jack Benstead, Cameron Carlson, Caris Carlson, Evan Cuba, Kendan Dressler, Gianni Ferrara, Alec Kulikowski, Kendall Phillips, Elizabeth Piper, Andrew Rimmerman, Alexandria Schuck, Matthew Tanner, Lillian Walker, and Nicholas Zwerka; Eighth grade: Ashton Gavenda, Grace Huhn, Madelyn Pimm, Elli Schelemanow, Ella VanValkenburg, Claire Williams, Corden Zimmerman, and Josh Zittel.
Elementary School Geo Bees were — Fourth grade: Liam Boyle, Colin Rea, and Simone Scharvogel. Fifth grade: Ryan Benstead, Jake Carlson, Deborah Catalino, Noah Clare, Ada Clookey, Owen Cuba, Craig Diquattro, Lea Donofrio, Jack Farner, Rachel Hanel, Landon Kent, Eli Kupfer, Jackson Lundfelt, Martin Mac Connell, and Anna McLaughlin. Sixth grade: Brody Baubie, Braedyn Chambry, Grayson Erion, Aurora Hiscutt, Stephanie Onderdonk, Brendan Pimm, Carter Prinzi, and Quintin Rich.
The National Geographic Bees are coordinated by the schools' social studies teachers Aaron Clark, Ken Gropp, and Nick Muhlenkamp.
For more information on the National Geographic Bee, visit here.