October 26, 2020 - 3:13pm
Car-into-pole accident with injuries reported in Bethany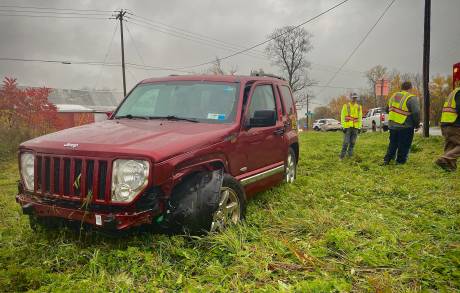 A car-into-pole accident with injuries is reported in Bethany at Transit Road and Ellicott Street Road. The pole is down along with wires. Bethany Fire Department is responding along with Mercy medics.
UPDATE 3:13 p.m.: The accident is not blocking traffic, according to a first responder on scene, who also reports a Sheriff's deputy is there.
UPDATE 3:17 p.m.: There is one patient "who is not very coherent." The vehicle is in a ditch; there is no debris in the roadway.
UPDATE 3:25 p.m.: The pole is sheared in half -- "I don't even know where the bottom half is," says a first responder. A NYS Trooper is also on scene.
UPDATE 3:47 p.m.: Responders believe this accident was the result of a medical issue. Just prior to the accident, callers to the dispatch center reported a vehicle being driven erratically. It was southbound on Route 63, went off the road onto a lawn, possibly damaging a decorative pole, then back on the road and off again on the west side of the roadway. It careened over to the opposite side and landed on its wheels in a grassy area on the east.