Image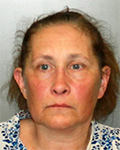 Becky L. Frens, who is accused of failing to provide for the basic needs of a 3-year-old Lab mix breed that used to be her pet, was in Batavia Town Court this afternoon.
The matter was again postponed, this time until 10:30 a.m. on Monday, Dec. 17.
Samuel Alba, an associate attorney with the law firm of Friedman & Ranzenhofer, told Judge Michael Cleveland that plea negotiations with the District Attorney's Office were ongoing and additional time was needed to submit "more documentation."
First Assistant District Attorney Melissa Cianfrini said copies of any new documents need to be forwarded to the D.A.'s office. She said she did not have a problem with postponement; but come Dec. 17 the people will demand the case to be adjudicated or a trial date set.
That's exactly what Judge Cleveland had said the last time the case was on the docket, on Sept. 24, when neither Frens nor attorney Michael Ranzenhofer showed up like they were supposed to and without communicating anything to the court.
The matter was also delayed once during the summer, on July 30, after Ranzenhofer cited unspecified "complications."
Frens, who lives on Pearl Street Road in the Town of Batavia, is in her mid-50s and was accompanied to court today by a male, possibly her husband.
She stood quietly next to attorney Alba at the bench, looking different from both her previous court appearance and from her arrest mug shot (inset photo). Today, she had long straight blond locks, and wore a maxi skirt with swirls of teal, black and white, and a purple hooded jacket.
She was arrested July 10 by Troopers out of SP Batavia and charged with overdriving, torturing and injuring an animal; failure to provide proper sustenance.
Troopers were dispatched to the Genesee County Animal Shelter at the request of animal control officers after Frens arrived at the facility to claim her dog that had been found by her neighbor the day before.
"Maya" was in very poor health with multiple issues caused by neglect, according to Volunteers for Animals. The dog was diagnosed with multiple skin infections, mange, double ear infections that left her only able to hear a dog whistle, and her uncut nails were so long she could barely move.
Under the state Agriculture & Markets law, Article 26, Section 353, this is a Class A misdemeanor. If found guilty, a defendant faces jail time of more than 15 days but not greater than one year. In addition, a fine of up to $1,000 can be imposed.
A man who keeps the books for Volunteers for Animals said outside court this afternoon that he guessed Maya's vet bills were between $300 and $500.
The dog's mange has cleared up; knots of scar tissue on her back and shoulders were surgically removed; her muscles are stronger and she's gained weight; she's been spayed. And she's been adopted into a home that cares.