Image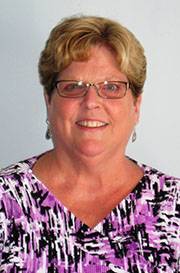 Submitted photo.
Press release:
Linda Doll, pictured left, a staff member with Catholic Charities Home Visitation Program in Genesee County, is retiring after six years of dedication to older adults and volunteers. Doll will be missed, especially for the energy, organization and compassion she brought to the program, the people and the volunteers.
The Home Visitation Program, made possible through a grant from the Muriel H. Marshall Fund for the Aging, provides weekly visits to homebound older adults in Genesee County who are 60 years of age or older with a limited ability to get out of their homes. Goals of the visits are to bring a sense of social connectivity and friendship to both the program member and volunteers.
Program volunteers make a weekly visit to the home of an older adult, stay connected with the client's loved ones and help participate in hobbies and crafts. Volunteers often find a rich sense of fulfillment with the knowledge they are reaching out to someone in friendship.
Doll, who is retiring and moving closer to family members, said, "This is the only job I've had that I absolutely love! I love hearing the stories our clients have about their lives. It's such a great feeling to see the happiness in the face of our clients when we match them up with a visitor who really cares about them. There are so many lonely seniors in our county and this program is so worthwhile."
Indicative of her caring approach was a recent incident that played out the day before Linda was to go on vacation: A volunteer called to say that the senior she visits wasn't answering her phone. Staff was concerned about the extreme heat of the recent days so Doll quickly said, "I'll go check on her." She was about to call 9-1-1 when the door opened. The elderly member was OK but her phone was out of order and, after calling the phone company, it appeared her phone wasn't working. Because the senior had no one else locally to rely on, Linda went out, purchased a new phone and waited to be sure it was working before returning to complete her own work. 
Doll also praised the volunteers, "We have such wonderful volunteers who give their time and friendship."
She expressed appreciation for the community partners with whom she has worked. 
"I've also enjoyed, and been so grateful for, the opportunity to work with staff at the Office of the Aging, VA Home Based Primary Care Unit, Lifespan, Sage, Handyman and RSVP programs."  
Home Visitation services are provided free to older adults, along with linkage and referrals to agencies that offer other services. The program has a flexible visitation schedule and all volunteers are screened, trained and supervised. The program also is available in Orleans County.
For more information, to express interest in receiving visits or to learn more about becoming a volunteer in Genesee or Orleans counties, please call (585) 343-0614.
Services for all ages, including individual and family counseling and emergency assistance, are provided in Genesee County at 25 Liberty St., Suite 7, in Batavia. 
As the most comprehensive human service provider in Western New York, Catholic Charities served nearly 132,000 people in need in 2015. For 93 years, Catholic Charities has been making a difference for people of every faith and ethnicity in Western New York. Catholic Charities empowers individuals, children and families to achieve meaningful, healthy and productive lives. Catholic Charities is an excellent steward of the contributions that it receives, attaining the highest rating (four stars) from Charity Navigator and the 2015 Torch Award for Philanthropic Excellence from the Better Business Bureau Foundation of Upstate New York. The agency also receives highest rating from the Council on Accreditation for quality service.