September 1, 2017 - 4:32pm
Child sex abuser found living with woman and her three kids, DA says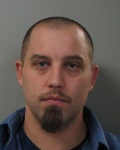 A registered sex offender and former resident of Chaddock Road, Bethany, was in Genesee County Court again today for a probation violation.
According to District Attorney Lawrence Friedman, Christopher Joseph Campbell has been staying with a woman and her three children, which is a violation of his probation.
"He can't be around children, even if the mother has no objection," Judge Charles Zambito told the defendant and his attorney, Michael Locicero. "It's not up to her. It's up to me."
The mother, who was sitting in the gallery, was asked by the judge if she understood that. She said yes, and was asked to state her name for the record.
The defendant, with nearly shorn hair and sporting a Van Dyke (see photo, taken in February), was dressed in street clothes -- jeans, a gray T-shirt, and turquoise, gray and white zip-up fleece jacket. He looked over at his girlfriend and shrugged his shoulders a couple of times during the proceedings.
Although his attorney said he is employed full time, Friedman said that it is his understanding that Campbell was fired from his job.
Zambito said he will revoke Campbell's probation if he is found around children and he will be arrested. Period.
Last October, Campbell was charged with failure to report a change of address as required by law. It is a felony. He formerly resided on West Main Street Road in Batavia before moving to Bethany. But the state database for sex offenders, as of today, lists him as residing on West Main Street Road.
According to the state database, the 39-year-old, who is 5'10" and weighs about 190 pounds, was convicted of first-degree sexual abuse in 2007. He was a "non-stranger" who sexually abused two girls, ages 10 and 7, in the summer of 2005. Although force was not used, according to the record, he is listed as "sexually violent." He was arrested for the sex crimes by Monroe County authorities.
Campbell served two years in state prison.
Campbell is due back in court at 10 a.m. on Tuesday, Sept. 19.
September 3, 2017 - 8:41am
#1