November 21, 2018 - 1:09pm
CMVA 19-6 Broken Arrow donates $1K to Batavia PTSD Clinic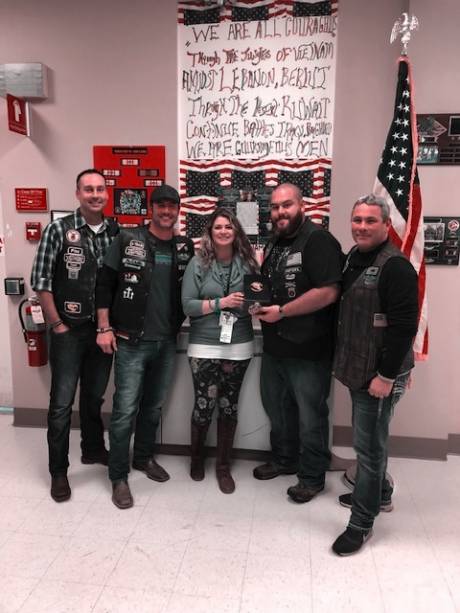 Submitted photos and press release:
CVMA 19-6 Broken Arrow chapter donated $1000 in gift cards to the VA PTSD Residential Programs on Monday (Nov. 19) at the Batavia VA. The gift cards to Walmart, Tops and Target will be used to enhance programming for veterans while at the facility.
It gives us so much joy to able to give back with all the help from the folks that contribute to "Vets helping Vets," an organizer said.
Thanks again to all our supporters!
About CMVA
The nonprofit Combat Veterans Motorcycle Association is a group of combat veterans who joined together to form a brotherhood of men and women who have in common the trials of serving in defense of our country and the love of riding.
The association is comprised of combat veterans, supporters, and auxiliary members who share a love of riding motorcycles. Its mission is to support and defend those who have defended our country and our freedoms.
The Western New York Chapter is based in Akron.
Below, from left, are: Andy McCann, Patrick McCann, Chad Liggetto, Brian Fitzgerald and Nick Pilozzi.