July 24, 2018 - 3:57pm
Conway Kellyanne is fastest filly in NYSS at Batavia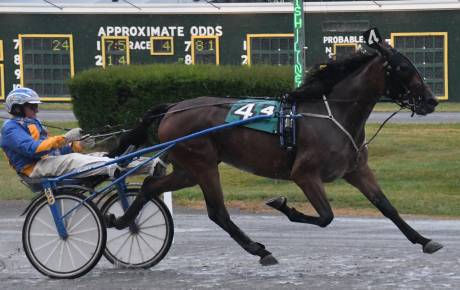 (Photo of Conway Kellyanne and driver Charlie Norris courtesy of Paul White.)
By Tim Bojarski, for Batavia Downs
Three $36,567 divisions of the New York Sire Stakes (NYSS) for 2-year-old trotting fillies were contested under rainy conditions on opening night at Batavia Downs Monday evening (July 23), but the weather didn't deter the girls from going some impressive miles throughout the night.
Conway Kellyanne (Conway Hall-Pacific Centerfold) won the fastest heat and she did it very convincingly. After dropping in third off the gate, Conway Kellyanne (Charlie Norris) pulled past the eighth pole and rolled up the outside to take the lead from Safe Word (Jeff Gregory) at the quarter. She cleared, hit the pylons and the race was basically over.
Conway Kellyanne continued to lead unchallenged until the top of the stretch when Safe Word pulled the pocket to make a rush. But the attempt was to no avail as Conway Kellyanne opened up three at the wire in an easy 1:59.4 victory.
Conway Kellyanne ($4.20) is owned by Carrie Norris, Acadia Farms and G & B Racing and is trained by her driver, Charlie Norris.
The first division was won by Quincy Blue Chip (Chapter Seven-Sirenuse) who was parked to the quarter in :30.2 before taking the lead, but when she cleared it was for good. Driver Jim Morrill Jr. grabbed leather in the middle half maintaining an open length advantage. Around the last turn Quincy Blue Chip was given her head and she stepped the final panel in :29.1, drawing off to a two length win in 2:01.2.
Quincy Blue chip ($2.70) is owned by Blue Chip Bloodstock Inc. and is trained by Garth Dowse.
And the final split was taken by Winndevie (Credit Winner-Vida De Vie) in a thrilling finish. Water Lily Hanover (Ake Svanstedt) went down the road, hitting the half in 1:00 over the off track with the heavily favored Amal Hall (Andy Miller) right on her back. After passing the three-eighths, Liquorstoreblues (Jim Morrill Jr.) pulled from fourth and Winndevie (Trond Smedshammer) followed along. As they rolled up, Amal Hall pulled from second in front of both of them and the outside group moved forward.
When these three hit the head of the lane they fanned across the track. It was Amal Hall on the pylons, Liquorstoreblues in the middle and Winndevie three-wide and farthest back. Amal Hall looked like she was the best but Winndevie flew past Liquorstoreblues and caught the leader right at the wire to win in 2:00.1.
Winndevie ($6.20) is now undefeated lifetime after scoring her third win in a row for Wanda Polisseni's Purple Haze Stable and trainer Trond Smedshammer.
There were also three divisions of the $15,000 Excel "A" series on Monday.
The first leg was won by Lifetime Credit (Credit Winner-Mariah De Vie) in a lifetime best 2:01.3. Lifetime Credit was driven by John Stark Jr. for owner by Robert Messing and trainer Maureen Salino.
The second division went to Beautiful Brenda (Credit Winner-Yankeedoodlecandy) who registered her first lifetime win in 2:03.3. Beautiful Brenda ($4.10) was driven by Scott Zeron for owners Rick, Joe and Johnny Stable, The Camel Club Stable and Bettola Stables Inc. Rick Zeron trains the winner.
And the final grouping was bested by Jumalay Mass (Muscle Mass-Acoustic Hanover) who also went a lifetime best 2:02.4. Owned by Erv Miller, Joe Faraldo and George Golemes and trained by Erv Miller, Jumalay Mass returned $3.40.
Racing resumes at Batavia Downs on Wednesday afternoon (July 25) at 5 p.m.