June 13, 2018 - 4:25pm
Corfu Girl Scout Troop 42025 proudly completes its Bronze Award Project, donates to Roswell Park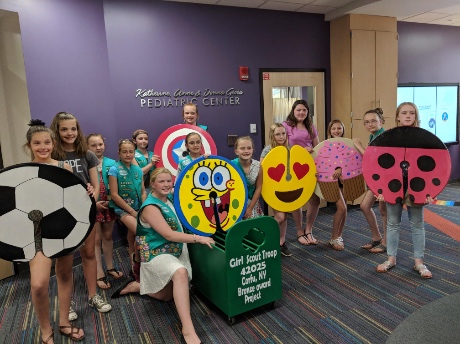 Submitted photos and information from Julie Beach, leader of Girl Scout Troop 42025, Corfu, and Lyndsey Schneider:
Corfu Girl Scout Troop 42025 completed its Bronze Award Project, the highest honor a Junior Girl Scout can achieve. They made fun, colorful "Lily Pads" -- a skateboard-like device -- for use at the base of IV poles at the Roswell Park Cancer Institute's Pediatric Center in Buffalo.
These are handmade, custom-made bases that fit securely on the bases of the IV pole, to be used by children undergoing treatments and in a weakened condition; they are able to ride on their IV pole accompanied by an adult.
For the "Lily Pad Project," the girls planned, wrote letters, then used multiple power tools to create, design and paint six wooden lily pads and build a rolling cart used to store and transport them.
They got the idea after learning on the Today show about a Seattle-area teenager named Nick Konkler who had battled leukemia since age 4. Nick was the first to design and create IV pole platforms after seeing a little girl in Mary Bridge Children's Hospital struggling to manuever around with her IV pole.
According to the Today show, his plan was to use time in his shop class at Auburn Riverside High School to build one for every child at the hospital. But he never got the chance; he died in 2015 at age 17.
Once they agreed this was the Bronze Award Project they wanted to pursue, the Girls Scouts of Troop 42025 started the process by writing letters to local lumberyards and home centers, requesting donations to help offset the cost of constructing the lily pads.
A prototype lily pad was created and tested on the IV poles at Roswell Park's Pediatric Center, and after some modifications to the prototype the troop was finally set to begin creating the lily pads.
Each girl in the troop had a hand in creating the lily pads from start to finish. They used woodworking tools to cut, router, fill and sand each lily pad and the storage box. It was the first time many of them had a chance to use power tools.
With such a large troop it was decided to create a reversible lily pad with a different design on each side, allowing each girl an opportunity to layout the design and paint.
Designs include: Captain America/Buffalo Bills, Emoji/Minion, SpongeBob SquarePants /Snoopy, Cupcake/Girl Scout Cookie, Dalmatian/Ladybug, Basketball/Soccer Ball were picked by the girls and traced onto each lily pad and then handpainted.
While it took much longer than expected to complete this project -- a year and a half -- and the troop far exceeded the requirements for the Bronze Award, the results were far beyond anyone's expectations. The girls, now mostly fifth and sixth-graders, did an amazing job working together to create beautiful lily pads for the children at the hospital. 
They worked hand-in-hand with Roswell Park staff to ensure all necessary steps were taken to ensure their lily pads would be totally functional and safe for children to ride upon to and from there treatments. 
On one side of the cart it says "Please use a Lily pad to ride in style. Made with Love by Girl Scout Troop 42025." The other side of the cart names the troop responsible for this creative feat intended to brighten the day of a sick child, noting it was their Bronze Award Project.
The lily pads and rolling storage cart were presented at Roswell Park Cancer Institute yesterday (June 12) by the troop and its leader, Julie Beach.
The Girls Scouts from Troop 42025 in Corfu who received the Bronze Award are:
Hannah Beach
Reagan Schneider
Lilly Senko
Bryonna Bisig
Kylie Monette
Paige Bryant
Makenzie Rich
Elle Peterson
Olivia Peterson
Ashley Johnson
Savannah Meyer
Sienna Korytkowski
Autumn Korytkowski
Dianna Kutter
Allie Spaulding
Kaydence Butler
Madison Chatley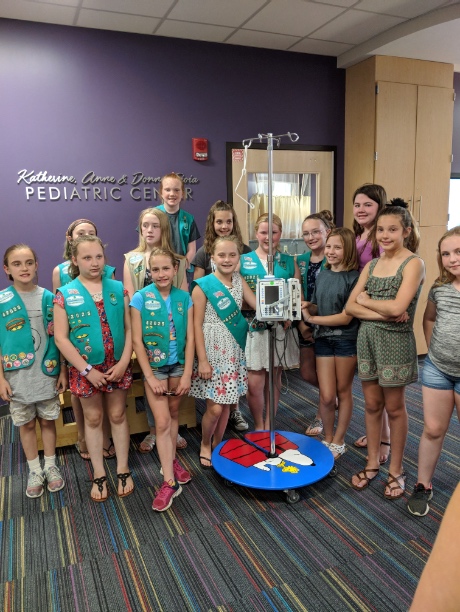 Below is a series of submitted photos showing the progress of their project.