May 24, 2016 - 3:39pm
Corona will likely lose her freedom in mid-July after violating terms of probation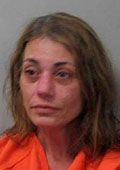 After violating her one-year interim probation twice, Osterhout Avenue's most infamous denizen, Suzanne Corona, was back in Genesee County Court today for a bail review.
Her attorney, Brian Degnan, brought a freshly minted certificate of completion for a 28-day stint in an inpatient recovery facility for substance abusers, which was ordered by the court last month after Corona's second violation -- both for using alcohol.
On April 13, she admitted to Acting Judge Michael F. Pietruszka that she laced her coffee with the almond-flavored Italian liqueur Amaretto. With the admission, Pietruszka allowed her to continue serving probation without any additional penalty.
But a week later, she tested postive for alcohol again and was sent to jail for the weekend (mug shot at right). On April 25, she was back in court wearing a bright orange jailhouse jumpsuit. Degnan said a bed in a recovery facility was available immediately and the judge released her to their custody for a month after signing a court order for the medical care.
Despite the certificate for completing rehab as required, it was determined that she had violated the terms of her release under supervision, as set forth last year when she admitted selling $60 worth of suboxone to an undercover drug task force agent. (She pled guilty to attempted fifth-degree criminal sale of a controlled substance, a felony. By doing so, she avoided serving up to one and a half years in prison and got one year of post-release supervision and probation instead...until now...)
She is to be sentenced in Genesee County Court at 1:30 p.m. on Thursday, July 14. 
Oh man, If I were her I would have just moved to West Virginia where I could blend in and get on with my life. Instead I went to Texas where I am still an outcast and newcomer after thirty five years.