February 24, 2020 - 4:14pm
Crossroads House grateful to Batavia Rotary Club for new snowblower and lawn mower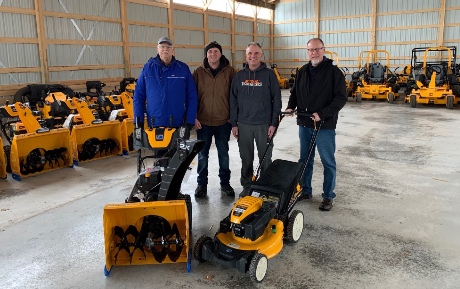 Submitted photo and press release:
The Rotary Club of Batavia recently blessed Crossroads House with a new snowblower and lawn mower to keep the grounds of their home beautiful in the summer, and safe and snow free in the winter.
Crossroads House Executive Director Jeff Allen and Rotary Club of Batavia President Bob Knipe were on hand to see the new equipment at Cedar Street Sales and Rentals.
"For so many years, we have relied on volunteers and staff with shovels in the winter and used lawn mowers in the summer that often times were held together with duct tape." Allen said.
"With this wonderful gift from the Rotary Club of Batavia, the great folks who keep up our grounds all year long can do so more efficiently."
Upon delivery of the equipment Guy Clark, along with sons Adam and Connor, presented Crossroads House with a certificate from Cedar Street providing all parts, labor, maintenance and tune-ups for the new equipment for three years.
"With the added bonus, we only need to pay for gas and that is great for our budget." Allen added.
Rotary Club of Batavia has partnered with Crossroads House for many years. They provided funds in the recent past to install a vital handicap bathroom.
They also funded an upgrade to the security camera system as well as LED lighting in the parking lot providing peace of mind important to a home that operates 24 hours a day.
Pictured, from left Bob Knipe, Rotary Club of Batavia president; Connor Clark and Guy Clark, Cedar Street Sales and Rentals; Jeff Allen, executive director of Crossroads House.