March 24, 2013 - 11:59am
D & R Depot serves up meals made from scratch in a unique and cozy atmosphere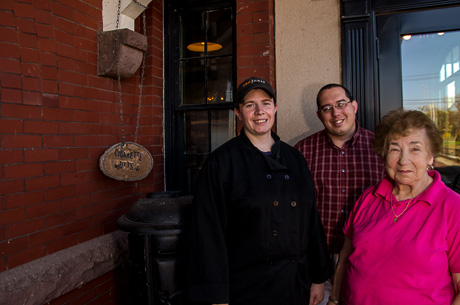 NOTE: Earlier this year, the Chamber of Commerce published its annual Genesee County Tourism magazine and for the second year in a row, The Batavian participated in the publication by producing photos and stories. Today, for your Sunday reading, we're publishing four of our stories. For more on why Genesee County is a great place to live and to visit, click here for VisitGeneseeNY.com.
When Nancy Nickerson decided late in life to open a restaurant, she knew what she didn't want -- a cookie-cutter establishment that heated up frozen food and took other shortcuts.
"I wanted a building that looked different, I wanted something that would attract people," said Nancy, who opened D & R Depot Restaurant in Le Roy in 1991. "And partly that was also due to our menu. We were doing things from scratch. People don't do homemade things anymore. They don't have time, so we offer them that."
Combine unbeatable home-cooked flavor with "a different ambiance" and superior service and you have the recipe for success that has built a legion of loyal patrons.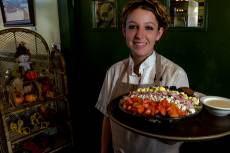 Her business partners, Sean Valdes and his wife, Jennifer, who's the head chef, began working there 20 and 18 years ago, respectively. They both started as dish washers.
The building itself is an old train station, located at 63 Lake St. (Route 19). It was one of the busiest passenger depots in the area until it closed mid-1960s. The railroad line that currently travels the tracks is the Genesee-Wyoming-Southern.
Inside, things remain much as they were, but with fresh paint and decor, of course. There are elegant 20-foot-high ceilings, wainscoting along the walls and lots of windows. The ticket clerk's office is still there, and so is the luggage portal. Big Band-era music plays softly.
Look up in the main dining room and you'll see a little feat of engineering -- a choo-choo train on a platform, which is decorated seasonally. Everything on it hangs upside down; the train runs along its track upside down, too.
It's unique and kids love it.
Customers also enjoy the personal touches that D & R Depot offers. If a real train passes by the restaurant while you're there, you get a keepsake "wooden nickel." You can sign up to receive a $10-off coupon and a free cupcake for your birthday. They also have a word game to win gift coupons and a guessing game at Christmas season with a chance to get a $400 gas card.
There are gifts for sale -- like hand-painted button pins, scarves, stuffed animals -- and history books such as one about the Jell-O Gallery Museum (which is also in Le Roy). Patrons on the mailing list get a newsletter to keep up to date on dinner specials, contests, etc., and the Web site is kept current.
"People feel an emotional connection to us -- like they're part of the business," Sean said. "And they are part of the business. They are the reason we're here."
Their loyalty has enabled the proprietors to acquire Double L Rental, which rents tents, linens, chairs, tables, etc., for weddings, corporate parties and the like. And soon, their banquet hall at another Le Roy location will open with seating for about 175 people.
But it's the food that keeps people coming back for more.
A basket of fresh-baked muffins, scones and rolls is brought to each table at dinner time. Jen develops new dishes, such as the "No Nothing Pie." After some trial and error, she created a vegan apple pie without added sugar, no gluten, and nut free.
Authentic Polish glomkis -- stuffed cabbage leaves topped with a tomato sauce -- are occasionally offered for the famous all-inclusive dinner special, available every Sunday.
Old-fashioned chicken pot pie is a customer favorite. It's brought to the table, turned upside down onto the plate and served piping hot. The French onion soup is made (without a starter base) from slowly carmelized, fresh onions, a touch of sherry and thyme, topped with croutons from homemade bread and melted cheese. (A tiny pair of scissors is included with each bowl to snip strands of cheese!)
"People will always purchase if they perceive a value," Sean said. "If you're giving them a good product, good price, good service."
D & R Depot Restaurant & Catering Services
63 Lake St. (Route 19)
Le Roy, NY 14482
(585) 768-6270
www.DandRDepot.com