April 13, 2018 - 4:20pm
Deputy Ryan Young is identified as officer involved in Wednesday night's shooting at Log Cabin Restaurant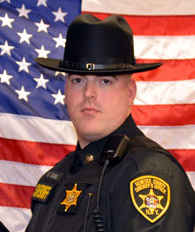 Press release:
Deputy Ryan W. Young has been identified by Genesee County Sheriff William A. Sheron Jr. as the officer involved in Wednesday night's shooting at the Indian Falls Log Cabin Restaurant.

Deputy Young is a six-year law enforcement officer who joined the Genesee County Sheriff's Office in 2016.

Sheriff Sheron said: "Law enforcement officers go to work every day knowing that they may be required to sacrifice their own lives, or take the life of another human being, in order to fulfill their obligation of protecting the citizens of our communities. Deputy Young's actions on Wednesday night did just that."
ADDITIONAL INFO: Deputy Young was with the Le Roy Police Department prior to joining the Sheriff's Office. On Dec. 1, 2015, he distinguished himself at a crime scene on Seldon Road, Le Roy, where Kyle G. Johnson had already killed a neighbor and set his own house on fire as Young arrived on scene. After he arrived, Johnson fired in his direction toward a fire chief. Young immediately took command of the situation, took cover, instructed neighbors to seek shelter in their basement, and kept other responding units informed of Johnson's movements and whereabouts, even, while at times, under the threat of being fired upon. He received a Distinguished Service Award from Le Roy Chief Chris Hayward for his valor. Johnson was eventually taken into custody without further shots fired.
After the duty-related death of Deputy Frank Bordonaro in 2014, Young made rope bracelets with brass plates honoring Bordonaro and sold them to others in the law enforcement community to help raise funds to donate to Bordonaro's sons.
Earlier this year, Young received his first Commendation from the Sheriff's Office.
April 13, 2018 - 5:13pm
#1
Ryan you did your job. Be proud.