May 20, 2018 - 3:00pm
Elba fifth-grader places second in statewide poster contest for Missing Children's Day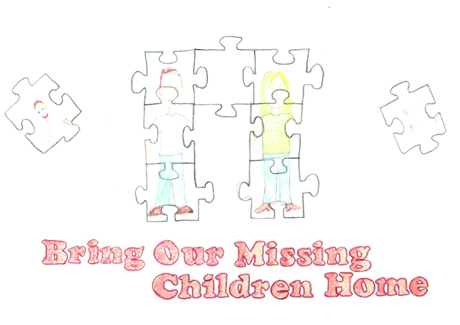 Above is the poster created by Elba Central School fifth-grader Jason Rowe. It won Second Place in the statewide Missing Children's Day Poster Contest.
Information from Missing Persons Clearinghouse, NYS Division of Criminal Justice Services:
A fifth-grader at Elba Central School named Jason Rowe took Second Place in the statewide Missing Children's Day Poster Contest, sponsored by Missing Persons Clearinghouse, NYS Division of Criminal Justice Services. 
There will be an award ceremony honoring Jason's achievement at 1 p.m. Tuesday, May 22, at the school, located at 57 S. Main St., Elba.
There were a total of 302 entries from 49 school districts throughout New York.
Clearinghouse staff narrowed the entries to the top 60 for review by a panel of three judges, who made their selections independently without knowing the students' names or schools they attend.
Judging the entries were DCJS Executive Deputy Commissioner Michael C. Green; Ellen DeChiro, an investigator with the special victim's unit of the New York State Police; and Matt Frear, whose teenage brother Craig disappeared from Schenectady County in 2004.
"This year's contest, more than any before it, was very difficult to judge due to the thought, creativity and high quality of work these students put into their posters," Commissioner Green said. "In the end, this was a very difficult choice to make and all of these young students deserve recognition for their effort to raise awareness for missing children."
The winning New York poster was created by Saranika Chakrabortty of PS 877 51st Avenue Academy in Queens. Hannah Hollenbeck from Howard A. Hanlon Elementary School in the Schuyler County Town of Odessa, was third.
All state entries are being displayed this month at the Empire State Plaza Concourse in Albany to mark this week's National Missing Children's Day on Friday, May 25.
The winner of the National Missing Children's Day Poster Contest, sponsored annually by the U.S. Department of Justice, is chosen from among all the states' first-place posters.
The state and national competitions are designed to raise awareness and educate the public about unresolved missing children cases.
History of National Missing Children's Day
May 25 was designated National Missing Children's Day in 1983. On that date four years earlier, 6-year-old Etan Patz vanished in New York City. The boy's disappearance gained wide publicity and created a groundswell of attention to the plight of missing children. Last year, a New Jersey man was convicted in connection with the kidnapping and murder of Patz and sentenced to life in prison.
Missing Children in New York
There were 17,114 children reported missing across New York State in 2017, with the vast majority of them reported by police as runaways. The overwhelming majority of these children returned home last year, but more than 2,000 missing children cases remain unresolved.
The Missing Persons Clearinghouse assists law enforcement agencies by providing training, case management guidance and investigative support, such as publicizing missing children cases. It also administers the state's Missing Child Alerts, which are activated when a case involving a missing child under the age of 21 doesn't meet AMBER Alert criteria.
The public is encouraged to receive notifications whenever the Clearinghouse or the New York State Police issue an alert about a missing individual. Both agencies partner with NY-ALERT, which sends out an automatic e-mail or text message to subscribers whenever an AMBER, Missing Child, Missing College Student or Missing Vulnerable Adult alert is activated.
To receive these alerts or others, sign up for a NY-ALERT account by visiting www.nyalert.gov. Anyone with an existing NY-ALERT account can add these alerts through their profile.
The New York State Division of Criminal Justice Services (www.criminaljustice.ny.gov) is a multi-function criminal justice support agency with a variety of responsibilities, including: law enforcement training; collection and analysis of statewide crime data; maintenance of criminal history information and fingerprint files; administrative oversight of the state's DNA databank, in partnership with the New York State Police; funding and oversight of probation and community correction programs; administration of federal and state criminal justice funds; support of criminal justice-related agencies across the state; and administration of the state's Sex Offender Registry.