October 12, 2018 - 5:31pm
Elba students walked to school on Wednesday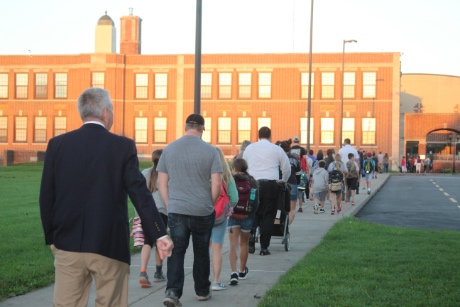 Submitted photos and press release:
Elba – The Wellness Committee at Elba Central School sponsored their fourth Annual Walk to School Day this week.
On Oct. 10th, Elba joined schools from around the United States to celebrate Walk to School Day.
Approximately 75 students from Elba Central School walked to school Wednesday along with parents, teachers and community members. They gathered at 7 a.m. at the Town of Elba Highway Department, located at 7 Maple Ave., Elba, and walking started at 7:15.
Upon arrival to the school cafeteria there were special activities associated with the walk. NYS ENCON officer Fay Fuerch and her K9 Handley were the event's special guests. A healthy light snack was served that was donated by Harrington's Produce, Yancey Fancy New York artisan cheesemaker, and Aldi.
Every student participant was entered into a drawing to win either an Art box, Walkie Talkies or a Bean Bag Toss. Thank you to the above sponsors and the Elba Fire Department!
In the United States, Walk to School Day is expected to include more than 5,000 events across all 50 states. Walk to School Day raises awareness of the need to create safer routes for walking and bicycling. It emphasizes the importance of issues such as increasing physical activity among children, pedestrian safety, traffic congestion and concern for the environment.
This event builds connections between families, schools, and the community.
The Wellness Committee at Elba Central School organizes occasions such as this to promote health and wellness among our staff, students and community through healthy events.
For additional information, please visit these websites:
Walk to School Day in the USA                                    www.walkbiketoschool.org                        
National Center for Safe Routes to School                        www.saferoutesinfo.org