October 21, 2017 - 8:36pm
Found: part Siamese cat in area of Ross and Bank in the city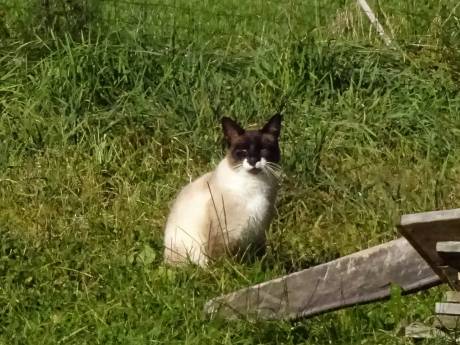 This beautiful, unique looking feline decided a couple of weeks ago to take up residence under Jim Schmitt's garden shed.
Schmitt lives in the area of Bank and Ross streets in the City of Batavia. He has two cats already and can't keep this foundling.
He writes "As you can seen he (she?) is very beautiful and most likely not just a stray. He looks to be part Siamese and has blue eyes and four white 'boots.' "
If you are the owner or know who is, please contact Jim at 343-5707.
Photo courtesy of Jim Schmitt.
October 21, 2017 - 10:06pm
#1
I live near the corner of Ross and Bank and have watched this cat and two others come and go from the treed/drain area on Ross St. all summer. This one patrols several yards around me, too. It is a local stray.