May 30, 2017 - 3:13pm
GC Sheriff's Deputy Andrew Hale recognized by Badge of Honor Association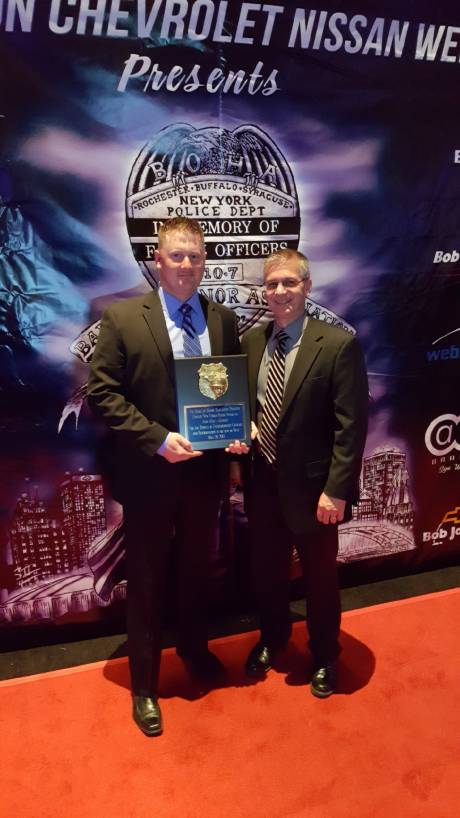 Pictured are Genesee County Sheriff's Deputy Andrew Hale, left, and Undersheriff Greg Walker.
Submitted photos and press release:
Members of the Genesee County Sheriff's Office attended the 2017 Badge of Honor Association (BOHA) Policeman's Ball held May 20 at the Joseph A. Floreano Rochester Riverside Convention Center. Deputy Andrew B. Hale was recognized for a critical incident that occurred in March of 2016 (one of 27 incidents recognized at the Ball).
Deputy Hale was seated in his patrol car during a traffic stop when an assailant shot at him with a rifle from a second-story window of an apartment, striking the patrol car and narrowly missing Deputy Hale. After a brief investigation, the assailant was arrested and charged.
The Badge of Honor Association was established in 2007 and is a not-for-profit organization that recognizes law enforcement officers in Central and Western New York (25 counties) who have been involved in critical incidents. BOHA dedicates signs in honor of fallen officers that mark their "End of Watch" date, holds several other events that honor the fallen officers and, most importantly, assists the fallen officers' families. Since its inception, there have been 11 officers killed in the line of duty within its geographical area.
Below are those from the Genesee County Sheriff's Office who attended this year's Policeman's Ball, from left: Deputy Ryan W. Young, Investigator James M. Diehl, Undersheriff Gregory H. Walker, and Deputy Andrew B. Hale. Deputy Matthew R. Butler attended, too, but is not in the photo.