July 16, 2016 - 2:14pm
GC Sheriff's Office hires new deputy, graduated 'Top Gun' in his class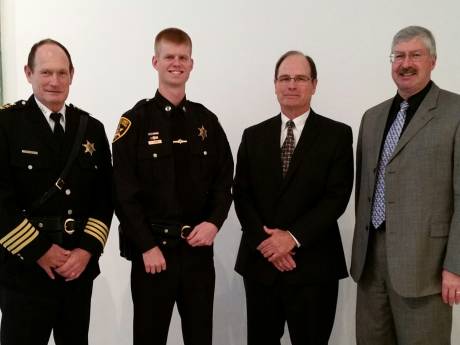 Photo, from left: Sheriff Gary T. Maha, Deputy Robert C. Henning, Chief Deputy-Road Patrol -- Gordon L. Dibble, and Chaplain Allen A. Werk.
 
Submitted photo and press release:
The Genesee County Sheriff's Office has filled a vacant Deputy Sheriff position with the hiring of Robert C. Henning. Deputy Henning recently graduated from the Niagara County Law Enforcement Academy at Niagara University on July 1 and was awarded "Top Gun" in his class. The keynote speaker at the graduation was New York State Senator Robert G. Ortt.
Deputy Henning is a 2010 graduate of Batavia High School. Following high school, he attended Buffalo State College where he earned a Bachelor of Science Degree in Criminal Justice in 2015. Deputy Henning was previously employed by the Batavia Downs Gaming Facility as a security guard and is a third-generation law enforcement officer. His father is a retired City of Batavia Police Officer, and his grandfather is a retired Orchard Park Police Officer.
Sheriff Gary Maha stated, "Deputy Henning is currently participating in our 14-week field training program and is a great addition to our road patrol."