Image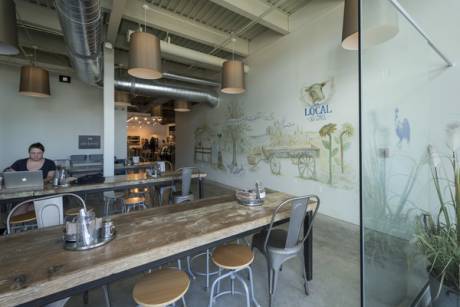 Submitted photos and press release:
In 2014, the owners of the Village Bakery & Café in Downtown Rochester contacted Karen (Todd) Flack to paint a mural to illustrate their fresh food philosophy which boasts local farm products, produce and free-range eggs.
Flack was excited about the project and she developed a farm scene stretching across nearly a full wall in the Café. The 10' x 25' painting features the sun rising behind mountains that edge a farm with chickens, a cow, trees, a wagon, fields and flowers and a banner that reads: "It's not just what we use. It's what we don't." Patrons have been enjoying the mural for nearly four years since her original artwork was developed.
An adjunct Art teacher at Genesee Community College, Flack teaches all of her students to do their homework and use a variety of resources to maximize the impact of a visual assignment. In fact, she collected approximately 150 images for visual reference while doing the Village Bakery & Café painting. In her 10 years of teaching at GCC, Flack has enjoyed teaching students of all ages.
She has also worked various art restoration projects and architectural conservation projects including assignments in the Senator's Mansion in Churchville, The First Universalist Church in Rochester, and privately owned works by artists such as Andy Warhol and Ramon Santiago. She also designed the commemorative button for the Second Annual Orleans County Heritage Festival in 2017.
Image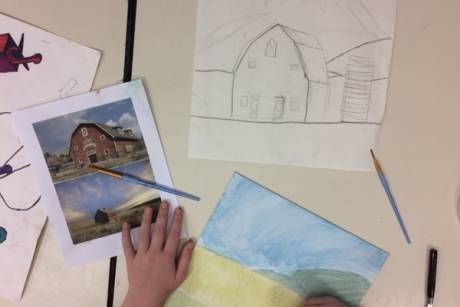 As both an artist and educator, Flack was recently honored when she discovered the mural in the Village Bakery & Café was being used as a reference by R.I.T. graduate student, Kelly Ryan in a teaching unit for a seventh-grade studio art class at The Harley School in Brighton.
The unit Ryan developed teaches students about effective use of the foreground, middle ground and background to develop great compositions, how to foster creativity and apply acrylic painting techniques. The farm-scape unit included a guest artist session where Ryan's students met Flack to discuss not only the mural, but the students' artwork, as well.
"I was so impressed seeing all of the pieces these young budding artists created using my work as inspiration," Flack said. "Most artists hope their work inspires or educates and it was humbling to see it first-hand in these students." 
Ryan's unit also served to illustrate the various careers available to artists.
"With each unit I teach, I work hard to make sure my students see the opportunities their learning and skills can produce," Ryan said. "Having Karen come into the classroom created a real-world connection for the students that demonstrated how art can be used to communicate messages, in this case the farm to table concept, to the community through a social context.
"The farm-scape unit culminated with a student art exhibit at the Village Bakery & Café. The public display really drove the students to produce their very best work."
Flack's mural, which was one of four nominated for the Best Mural in Rochester in 2014 is visible at the Village Bakery & Café at the Armory, located at 145 Culver Road in the City of Rochester.
To appreciate Flack's additional creativity in arts go to her website here, which features a video of her playing her violin or "fiddle" as a guest appearance with the Marshall Tucker Band at the Rochester Lilac Festival, and also her work at the Perry Chalk Art Festival where she won first place in 2016 and was the featured artist in 2017.
(In addition to the Culver Road location in Rochester, Village Bakery & Cafe has two other sites: in the Eastview Mall in the Town of Victor; and in the Village of Pittsford.)