Submitted photo and press release:
This week offers a cultural opportunity to support local artists, and in this case also local filmmakers, screenwriters and actors.
From 5:30 till 11 p.m. on Wednesday, Thursday and Friday, Dec. 18, 19 and 20 the College is hosting the fourth annual Western New York Film, Art and Music Event (FAME), organized by Beaver Alley Studios Inc. and cosponsored by the CineMagic, a GCC student organization. The event will be held in the central Forum of the Batavia Campus.
Over the three nights, the FAME Festival will be showing an array of different films including documentaries on the first night. On Friday evening, awards will be given in a variety of different categories including:
Film --- Best No-Budget Film (under $15,000), Best Director, Best WNY Film, Best Short Script and more;
Music Video-- Best Cinematography, FAME Audience Choice, Most Unique Concept Song/ Video;
Photography-- Landscape, People, Events, Nature, Best Body of Work.
Admission to each night is completely FREE. Mature content is scheduled for screening after 9 p.m., but the bulk of the work to be viewed is intended for all-age audiences. Nearly 50 screenplays, photo films and music videos were entered into the contest.
For additional more information on the festival, click here.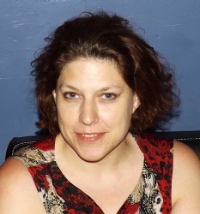 Beaver Alley Studios Inc. is a nonprofit organization founded by
Rhonda Parker
, a 2015 GCC graduate
(inset photo right)
who earned degrees in Communications and Media Arts and as well as Paralegal Studies.
Parker established Beaver Alley Studios Inc. to facilitate the production, promotion, distribution, exhibition and celebration of independent art in all forms, especially art from a female perspective. The organization offers services such as screenwriting and script consultation, cinematography, editing, film reviews, film school, and packages for events, commercial use, music videos and short films.
A resident of Albion, Parker is an active filmmaker and produced several full length movies, including her first, "Friends Don't Let Friends - Date Friends" in 2014. She has also written and produced the feature films "Lonely Bananas," "Message in a Bottle," a number of short films, and early in her film career she appeared as a "Walmart mom" in a television commercial.
For more event details, contact Beaver Alley Studios Inc. President Rhonda Parker at (585) 798-2815 or via email at[email protected] or Genesee Community College Assistant Professor of English and Film Shawn Adamson at (585) 343-0055, ext.6156, or via email at [email protected].