June 5, 2017 - 12:02pm
GCC names new director of Adult Education Opportunity Center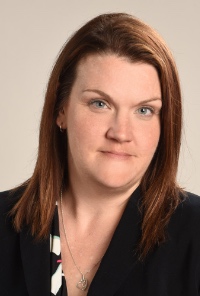 Submitted photo and press release:
Genesee Community College is pleased to announce Katherine (Kate) Trombley as the new director of the Adult Education Opportunity Center (AEOC).
Trombley joins GCC with a wealth of experience and is excited to work with and support adults in Allegany, Genesee, Livingston, Orleans and Wyoming counties as they begin, resume or continue their educational objectives, goals and dreams.
"I am extremely passionate about education and learning," Trombley said. "Through this position, I will be able to assist adults who would like to attend college, obtain vocational training or change careers through the support of the services that AEOC offers to the region.
"I am very excited to share the resources and opportunities with potential students from Genesee, Orleans, Wyoming, Cattaraugus, Allegheny and Livingston counties."
The AEOC at GCC strives to assist adult students in connection with the appropriate resources that will help them to meet their individual goals.
With locations in Batavia, Arcade, Albion, Geneseo, Warsaw, Belmont and Basom, adults receive assistance with the admissions and financial aid forms and processing, as well exploring academic and career options, scholarships, and sorting through different academic scheduling that can include evening, weekend and online learning opportunities.
Trombley's prior position was with Western New York Independent Living in Buffalo where she served as director of outreach and community engagement and as the director of the Medicaid Application Assistance Program since 2012. At Western New York Independent Living, she was responsible for community engagement, education and outreach efforts.
These included community presentations, training about Medicaid, and community events to broaden the general understanding about programs and services which assist individuals with disabilities to achieve goals surrounding education, employment, housing, or other personal and professional growth through the Independent Living Center.
Trombley also taught Business Technology as an adjunct instructor at Bryant and Stratton College from 2012 – 2015, and was an adult educator of Strategic Planning/Business/Marketing at ITT Technical Institute in 2010.
She earned a master's degree in Executive Leadership and Change from Daemen College, a master's degree in Adult and Continuing Education and a bachelor's degree in Public Communications from the University at Buffalo. She is a resident of Lockport.
For further information on the AEOC, including available resources, locations, and contact information, visit the Center's website at http://www.genesee.edu/home/resources/adult-educational-opportunity-center/ or contact Kate Trombley directly by calling 585-345-6836 or emailing [email protected].