August 11, 2017 - 1:48pm
Get the look: Richmond library to give out 1,000 of NASA's solar-eclipse-viewing safety glasses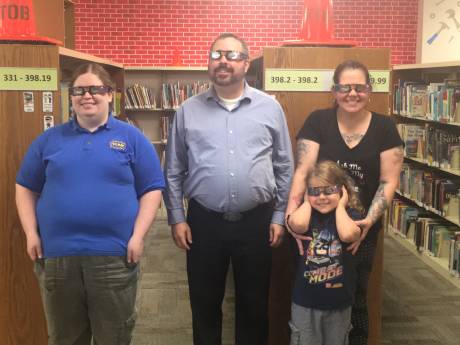 Submitted photo: Ronnie Scroger, age 6, and his mother, Tracey Cook, join library employees Marie Barcomb and Bob Conrad to model the safety glasses that will be available at Richmond Library programs Aug. 14 to 21.
Press release:
Due to heavy regional interest, the Richmond Memorial Library in Batavia will begin distribution of a limited supply of solar eclipse-viewing safety glasses at library eclipse-themed family programs already scheduled for Aug. 14th, 16th, and 18th.
The remainder of glasses will be distributed on a first-come basis at an eclipse-viewing lawn party hosted by the library on the afternoon of Aug. 21, after a brief safety demonstration.
"We got a thousand pairs of these glasses from NASA," Library Director Bob Conrad explained. "But under the terms of their grant, we can only distribute them after a safety demonstration that's a part of our summer reading program.
"Originally, those demonstrations were all going to be on the afternoon of August 21st, during the eclipse. But we're getting so many calls from people who don't live here or who are traveling for the eclipse, that we decided to start distribution early by including the safety demo at all of next week's family programs."
 
Those programs include a library craft project at 2:30 p.m. on Monday, Aug. 14th ("Make a Sun Magnet"); a cooking program at 2:30 p.m. on Wednesday, Aug. 16th ("Make and Eat Your Own Moon Pies"); and a movie to be screened at 2:30 p.m. on Friday, Aug. 21st (the 2015 animated DreamWorks feature "Home").
"I guess we couldn't afford the rights to 'Space Jam,' " Conrad joked.
The programs are billed For All Ages, but registration is recommended to guarantee a space. Register on the library's website at batavialibrary.org, or by calling the Children's Room at 343-9550.
According to an interactive map published by NASA's educational outreach website (eclipse2017.nasa.gov/libraries), Batavia's public library is the only one in a five-county region surrounding Buffalo to participate in the educational program, along with libraries in the Rochester area, Jamestown and Geneseo.