Image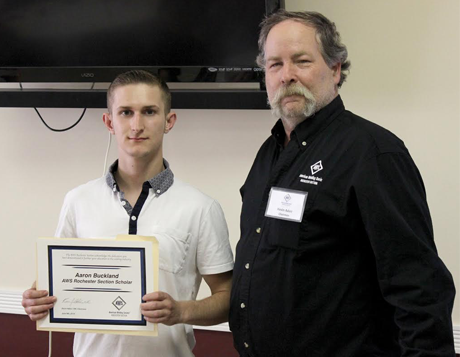 Kevin Adair, AWS Section chairman (right), presents the award to Aaron Buckland.
Press release:
The Rochester Section of the American Welding Society (AWS) recently presented Aaron Buckland with a $5,000 scholarship that he can apply to the welding technical school or college of his choice. He also received an additional $500 cash award toward equipment or supplies for school.
Aaron plans to attend the Commercial Diving Academy in Florida to train as an underwater welder/diver.
Aaron is a recent graduate of the Metal Trades Program at the Batavia Career and Technical Education Center. Don Shuknecht was Aaron's instructor. 
"Aaron is a fine example of a student who is committed to achieving his absolute best," said Shuknecht, a Metal Trades instructor. "His positive attitude and spirit provides him with a drive to achieve. I know that he will be successful in whatever he attempts."
Aaron is also a member of the NYS SkillsUSA Fabrication Team that will be competing in the SkillsUSA National Competition in Louisville, Ky., later this month.
###
The Batavia Career and Technical Education Center is a school that is part of the Genesee Valley Educational Partnership. The Partnership operates as a Board of Cooperative Educational Services offering shared programs and services to 22 component school districts located in Genesee, Wyoming, Livingston and Steuben counties in New York State.