August 2, 2019 - 3:23pm
Happy 100th birthday on Aug. 10, 2019 to former Pavilion resident Neva Hettrick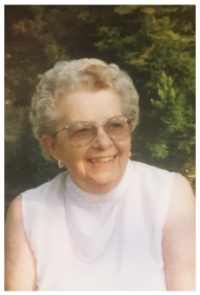 Neva Hettrick (née Harmer), formerly of Pavilion, will be turning 100 on Aug. 10, 2019.
She now resides at the Morgan Estates in Geneseo.
They will be having a birthday celebration for her on Friday, Aug. 9.
Her niece, Carol Hettrick Elliott, visited her recently and said she does not recognize a lot of people anymore, nor is she aware of much of what goes on around her, but her family is proud of her reaching the year of her centennial.

Neva was born in Batavia to Frank and Bertha Williams Harmer. Her family lived in Byron before moving to Pavilion in the 1930s.
She graduated from the Pavilion Central School in 1937.
James Hettrick caught her eye and they were married in 1940. They traveled all over the country during World War ll because James was stationed at various Army bases as a meat inspector.
Neva was well known in Pavilion because she worked in the U.S. Post Office for many years. At the same time, James was the superintendent of the Highway Department, so everyone knew him, too.
They didn't  have any children but they had many friends and were well respected in the community.
Throughout her life, she loved to read and grow flowers and she crocheted many beautiful items.
Neva has been widowed for about 18 years. However, even though it has been hard for her, she has persevered and now she has reached this important milestone.