December 28, 2017 - 12:31pm
Head-on collision between semi and car reported on Route 33 in Stafford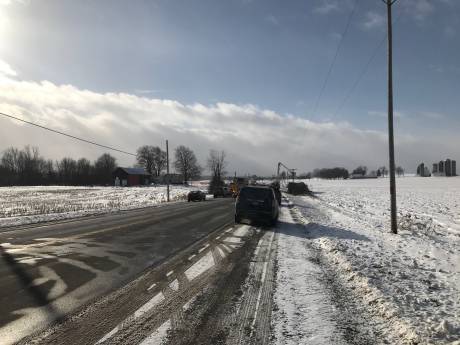 A head-on collision between a semi-truck and a car is reported on Route 33 in Stafford. One person is reportedly "unresponsive." Mercy medics and Stafford fire are responding.
UPDATE 12:32 p.m.: The accident is in the area of 5882 Clinton Street Road (Route 33).
UPDATE 12:35 p.m.: There is a lot of debris in the roadway. The roadway is blocked. Bergen Fire Department is called. Extrication equipment will be needed.
UPDATE 12:38: Stafford command also requests Byron and South Byron fire departments to the scene, which is between Mill Road and Westbrook Morganville Road. Mercy Flight #7 is called in; a 15-minute ETA. "We need the extrication as soon as possible for this one patient," says a first responder.
UPDATE 12:41 p.m.: The extrication equipment is en route. Fire police are going to close the roadway near the scene.
UPDATE 12:48 p.m.: National Grid is called because the semi struck a utility pole, which is still standing but "it's damaged and it's making some noise."
UPDATE 12:56 p.m.: Stafford commands says "Just be aware this (roadway) is going to be shut down for awhile."
UPDATE 1:07 p.m.: National Grid is on scene.
UPDATE 2:21 p.m.: Genesee County Undersheriff Gregory Walker confirmed this was a fatal accident. The driver and sole occupant of an eastbound sedan was killed, Walker said, after the vehicle crossed the center line and collided head on with a westbound tractor-trailer hauling food products. The trucker was not injured. "He tried to avoid (the crash)," Walker said. "He saw it coming over the center line and tried to avoid it. He couldn't avoid it." The trucker swerved into a ditch yet there was still a head-on collision. The accident reconstruction/crash management team is taking measurements at the scene and investigating. National Grid also has to replace the broken utility pole before the roadway can be reopened. Next of kin notifications are being made and the victim's information will be released afterward. Walker said the roads are dry now and were at the time the accident occured, so icy road conditions were not a factor. "We're not sure of the reason," that the accident happened, Walker said.