July 20, 2018 - 3:26pm
Head-on collision reported on Main Road in Pembroke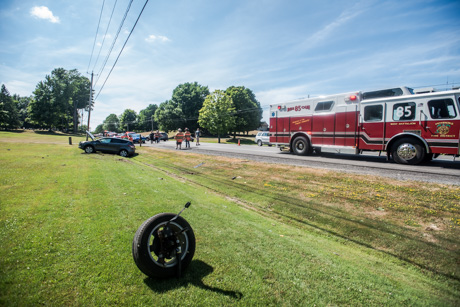 A two-car head-on collision is reported at 1396 Main Road in Pembroke. The location is between Boyce Road and Alleghany Road. The driver of one of the vehicles has a head laceration; three others are "shaken up" but otherwise OK.
No word on injuries in the other vehicle. The accident is blocking traffic.
Law enforcement is en route. Pembroke and Indian Falls fire departments are responding along with two ambulances, one from Mercy -- the second either Mercy or Darien. Mercy Flight is on standby.
UPDATE 3:32 p.m.: There are a total of two patients with minor injuries; one has a small head laceration; the other a leg injury.
UPDATE 3:52 p.m.: Three patients were transported. This was not a direct head-on collision. A Ford Escape was westbound on Main Road when it veered into the eastbound lane and struck a Chevy Traverse; neither vehicle sustained significant damage. The Ford had damage to the passenger side; the Chevy had passenger front-end fender damage. A third, unspecified vehicle, was sideswiped in the collision but no one was injured. Two patients in the Ford Escape were transported to a hospital. The passenger in the Chevy was also taken by ambulance to a hospital.