July 19, 2018 - 2:37pm
In Northgate church's Summer Base Camp for children, they're learning about 'Breaking Free'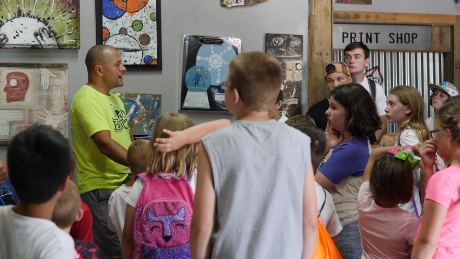 Submitted photos and press release:
Northgate Free Methodist Church is currently holding its Summer Base Camp for children ages 6-12 years old.
Next Generation Pastor Daniel Calkins has created an engaging curriculum to help build character development as well as community awareness among the enrolled children.
The morning curriculum is a sports-themed program, coached and run by UW Sports Ministries. This year's encompassing theme is "Breaking Free." The children have been able to participate in select sports and are being taught lessons of responsibility, truth, strong relationships, faith and eternity.
Today, as part of their community involvement, the kids were able to visit Batavia's T-Shirts, Etc. The children were educated on the process of screen-printing, and were able to get an exclusive sneak peek into the world of T-shirt printing.
Pastor Daniel is running Base Camp this week through Friday. Throughout the year, he also conducts both a Middle School Base program, which runs each Wednesday evening from 6-8, and a High School Base group, which meets Sunday evenings from 6:30-8.
For more information regarding our youth programs, please contact the office at (585) 343-4011, or email Pastor Daniel at [email protected]