November 17, 2017 - 4:56pm
Kiwanis Club of Batavia invites everyone to annual Thanksgiving Morning free skate at Falleti Ice Arena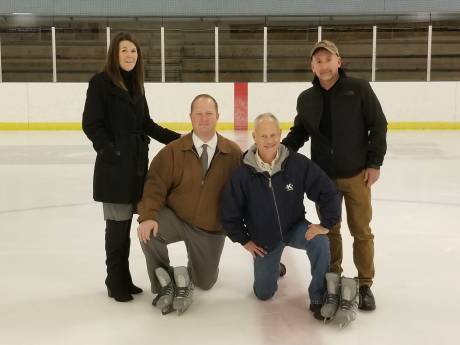 (Pictured above from left are Batavia Kiwanis Club members Jocelyn Sikorski, Matt Landers, Peter Guppenberger and Mark Lewis.)
Submitted photo and press release:
The Kiwanis Club of Batavia would like to invite the community to our Annual Thanksgiving Morning Community Skate at Falleti Ice Arena. It is located at 22 Evans St. in the City of Batavia.
The event runs Thanksgiving morning (Nov. 23) from 9 to 11 a.m. and admission is free, rentals are free (while supplies last) and the hot chocolate is free. Skaters of all skills are welcome!
Come start a new Thanksgiving tradition or continue a tradition that many area families have been participating in for years. A bonus of participating is getting a little exercise in before eating all of that delicious turkey later in the day!
We look forward to seeing all of the smiling faces and Kiwanis is so happy to be able to provide this family friendly entertainment for the community!
"The Kiwanis Club of Batavia would like to wish everyone a Happy and Healthy Thanksgiving!"