February 16, 2016 - 4:55pm
Lauded as a 'Sheriff's Sheriff': Maha gets most prestigious award given by NY Sheriffs' Institute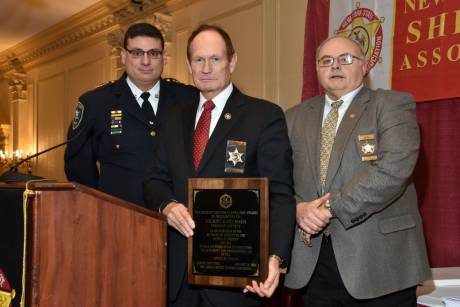 Submitted photo: Sheriff Gary Maha of Genesee County, center, proudly displays the Sheriff Grover Cleveland Award. He is only the fifth Sheriff to receive this prestigious statewide award. Sheriff James Voutour of Niagara County, left, and Sheriff Ron Spike of Yates County made the presentation on behalf of the Sheriffs' Institute.
Press release:
Sheriff Gary Maha of Genesee County has received the New York State Sheriffs' Association Institute's most prestigious award, the Sheriff Grover Cleveland Award.
On only five occasions has the Sheriffs' Institute leadership presented the highest honor that can be given a sitting New York State Sheriff -- the Sheriff Grover Cleveland Award.
The previous winners – in order – are Sheriff James Bowen, Saratoga County, Sheriff John York, Livingston County, Sheriff Kevin Walsh, Onondaga County and Yates County Sheriff Ron Spike. (All but Sheriff Spike are retired.) Between those four men, they have served almost 125 years in the Office of Sheriff. When you add Sheriff Maha's tenure as Sheriff the total jumps to over 150 years in the Office of Sheriff.
Maha became a Genesee County Deputy Sheriff in 1967. Two years later he was promoted to Senior Investigator. In 1977, he was promoted to Chief Deputy in charge of criminal investigations. In January of 1988, he was appointed interim Sheriff. He has since been elected to seven terms as Sheriff.
His accomplishments and contributions to public safety are not limited to Genesee County. Sheriff Maha has been very active in both state and national issues dealing with public safety.
On the local level particularly noticeable contributions under Sheriff Maha's tenure has been the implementation of the state-of-the-art Enhanced 9-1-1 Emergency Communications Center, the very effective joint drug task force with the City of Batavia and Village of Le Roy police departments and the positive culture of cooperation that has been built amongst all the county law enforcement agencies and law enforcement officers working in Genesee County.
Sheriff Maha is a past president of the New York State Sheriffs' Association and currently serves as chairman of that organization's Executive Committee. Governors from both parties have appointed him to criminal justice committee's and councils including the Law Enforcement Accreditation Council, New York State Interoperable & Emergency Communications Board and the New York State Committee on Counter Terrorism.
On the national level Sheriff Maha is very active with the National Sheriffs' Association. He serves as vice-chair of the National Sheriffs' Criminal Justice Information/Technology Committee and is a member of the organization's Homeland Security Committee.
Sheriff Maha is a graduate of the FBI National Academy in Quantico, Va. He holds an associates degree in Political Science and bachelor's degree in Criminal Justice.
"Sheriff Gary Maha, who is the state's longest-tenured Sheriff, is known not only in New York State, but at the national level as a 'Sheriff's Sheriff', said Sheriff Ron Spike, Yates County, upon presenting the Sheriff Grover Cleveland Award to Sheriff Maha.
(Maha announced last month that he will not seek reelection when his term expires Dec. 31, ending his 27-year run as Genesee County's top cop.)