December 3, 2018 - 2:14pm
Law and Order: Kelsey Road man faces two new felonies related to child porn case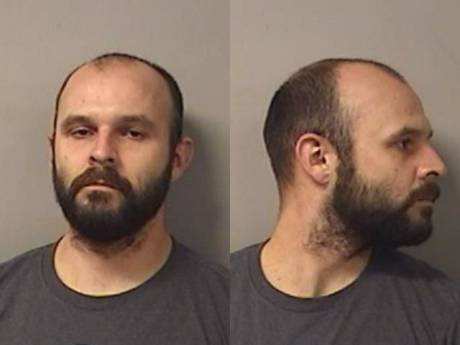 David J. Somerton, 36, of Kelsey Road, Batavia, (in photo above) is charged with possession of obscene sexual performance by a child and use of a child in a sexual performance, both felonies. He was arraigned on the charges on Nov. 29 in Batavia Town Court. Somerton was initially arrested and arraigned on five counts of disseminating indecent material to a minor on Oct. 31 after investigation into a sex offense that occurred in the Town of Batavia Oct. 13. The new charges stem from further investigation and additional charges are pending. The case was investigated by Genesee County Sheriff's Investigator Howard Carlson, assisted by Investigator/Youth Officer Timothy Westcott. The Genesee County Sheriff's Office Criminal Investigation Division was assisted by the FBI Buffalo field office.
Alvin Ezra Way, 57, of Bank Street, Batavia, is charged with second-degree criminal contempt. He was arrested at 9:06 p.m. on Dec. 1 on Colonial Way in Batavia for allegedly violating an order of protection by having personal contact with the protected party. He was issued an appearance ticket for Dec. 17 in Town of Batavia Court. The case was handled by Genesee County Sheriff's Deputy Travis DeMuth, assisted by Deputy Erik Andre.
Christie Lynn Daniels, 22, of Council House Road, Basom, is charged with: DWI, speeding in excess of 55 mph, and unlicensed operation -- driving without a license. At 1:59 a.m. on Dec. 2 on Lewiston Road in Batavia, Daniels was stopped by Genesee County Sheriff's Deputy Ryan Young for allegedly speeding. After an investigation, it is alleged that Daniels was driving without a license and while intoxicated. She was issued appearance tickets for Dec. 17 in Batavia Town Court. Deputy Young was assisted in the case by Deputy Austin Heberlein.
Trisha A. Park, 26, of Le Roy, was arrested in the evening on Nov. 30th by the Le Roy Police Department and charged with: aggravated driving while intoxicated with a child passenger under 15 years of age inside the vehicle, a class E felony; operating a motor vehicle impaired by drugs and endangering the welfare of a child -- both misdemeanors; unlawful possession of marijuana and inadequate headlights on a motor vehicle, both violations. At approximately 5:45 p.m. on Nov. 30th, patrols observed a vehicle operating without a headlight on Wolcott Street in the Village of Le Roy. Patrols initiated a traffic stop and interviewed the operator. While speaking with the operator, patrols allegedly noticed a strong marijuana odor emanating from the vehicle. A vehicle search would allegedly reveal marijuana as well as marijuana paraphernalia. After a brief investigation it was allegedly determined that Park was impaired by drugs. Park was taken into custody without incident and was evaluated by a Drug Recognizant Expert. Park was arraigned in Le Roy Town Court and released under supervision. Park is due back in court on Dec. 20th.
Frank L. Cortright, 60, of Route 77, Alabama, is charged with fourth-degree criminal mischief. It is alleged that at 12:15 p.m. on Nov. 30 on Pratt Road in Pembroke that Cortright intentionally damaged property belonging to another individual. He was issued an appearance ticket returnabled to Pembroke Town Court on Dec. 11. The case was handled by Genesee Coounty Sheriff's Deputy Travis DeMuth.
Stephen Michael Milroy, 24, of Perry Road, Pavilion, is charged with seventh-degree criminal possession of a controlled substance and unlawful possession of marijuana. At 3:42 a.m. on Dec. 1, Milroy was arrested on Park Road in Batavia after investigation into a report of an unconscious male sleeping in his vehicle in the Batavia Downs' parking lot. Milroy was processed at the jail and issued appearance tickets returnable to Batavia Town Court on Dec. 17. The case was handled by Deputy Andrew Mullen.
Christopher Jai Shawn Middleton, 24, of Dumont Avenue, Brooklyn, is charged with unlawful possession of marijuana and speeding. The defendant was stopped at 8:35 a.m. on Sumner Road in Darien on Nov. 29 for allegedly speeding. Investigation allegedly revealed he possessed marijuana. He was issued an appearance ticket returnable to Town of Darien Court on Dec. 11. The case was handled by Genesee County Sheriff's Deputy Kevin McCarthy.