December 22, 2018 - 3:02pm
Law and Order: Man faces eight felony charges for domestic incident on Jackson Street in the city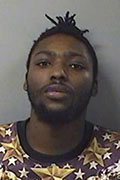 The victim of a domestic incident responded to the Batavia Police Department and an investigation determined that Iszon Richardson (right inset photo) allegedly violated a complete stay away order of protection.
Richardson is suspected of holding the protected party at their residence on Jackson Street and refusing to allow them to leave.
A short time later, the Batavia PD received information that Richardson had returned to the protected party's residence and police responded. Police did not release the date of the incident, but put out this report on Friday (Dec. 21).
They located Richardson hiding and he was taken into custody and charged with: four counts of first-degree criminal contempt -- Class E felonies; three counts of second-degree burglary -- Class C felonies; and one count of unlawful imprisonment in the first degree -- also a Class E felony.
Richardson was arraigned in Batavia City Court and put in Genesee County Jail in lieu of $30,000 bail. He is to reappear in city court at a later date.
This case was investigated by Officer Christopher Lindsay, assisted by Sgt. Christopher Camp, Officer Mitchell Cowen, Officer Chad Richards and Officer Jamie Givens.
Steven William Barnhardt, 27, of River Road, Pavilion, is charged with second-degree aggravated harassment and fourth-degree stalking. At 12:15 p.m. on Dec. 21, Barnhardt was arrested on the charges. After meeting a female a week prior, he allegedly continued to send text and Facebook messages and call the female, who lives on Barrville Road in Elba, after being advised to have to further contact. Barnhardt was arraigned in Batavia Town Court and released under supervision of Genesee Justice. An order of protection was issued by the court. The case was investigated by Genesee County Sheriff's Investigator Joseph Loftus.
Gary David Doctor, 36, of Pembroke, is charged with: driving while ability impaired by drugs; unlawful possession of marijuana; driving left of pavement markings; having an unregistered motor vehicle; unauthorized sticker on rear window; and obstructed driver's view. On Dec. 20, Doctor was arrested on the charges, which stem from a motor-vehicle accident that occurred at 9:48 p.m. on Nov. 5 on Knapp Road in Pembroke. Doctor was released on an appearance ticket and is due in Pembroke Town Court on Jan. 22. The case was handled by Genesee County Sheriff's Deputy Kevin Forsyth.
Damien M. Schoonmaker, 20, of Smith Street, Rochester, is charged with trespass. The defendant was arrested after allegedly driving around the property and racetrack of the Genesee County Fairgrounds at 1:43 p.m. on Nov. 30 without permission and causing ruts in the mud and grass. The case was handled by Genesee County Sheriff's Sgt. Ronald Meides.