October 30, 2015 - 1:58pm
Le Roy's Bessey Tools named Employer of the Year by NYS ARC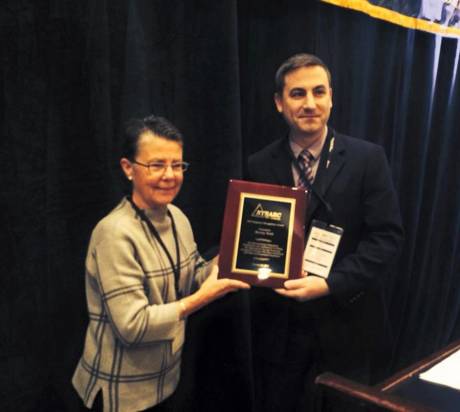 (Submitted photo of NYS ARC President Laura Kennedy presenting an Employer of the Year Award to Jeremy Smowton, of Bessey Tools in Le Roy.)
Press release:
NYS ARC President Laura Kennedy presented an Employer of the Year Award to Jeremy Smowton of Bessey Tools, last week during NYS ARC's Fall meeting in Albany.  Bessey Tools was nominated for the award by Genesee ARC to recognize its longtime partnership with the business whose United States headquarters is in Le Roy.
Smowton, vice president of Finance at Bessey Tools, reflected on the company's association with Genesee ARC.
"We truly appreciate the hard work and effort the team from our local ARC provides for Bessey Tools," Smowton said. "They are a conscientious group that cares about the work they do, which we feel they do very well. At Bessey Tools, we are proud to have the privilege to serve our community through Genesee ARC. We look forward to a long standing future relationship."
Genesee ARC has had a business relationship with Bessey Tools for the past 15 years and has had an onsite enclave at their factory since January 2013, employing 6 to 10 people daily.
Scott Jones, Genesee ARC director of Employment Services, said individuals work at ten different stations, assembling clamps, operating drill and hydraulic presses, packing and barcoding products.
"When Bessey Tools decided to move an assembly operation from Long Island to Le Roy, they asked Genesee ARC to handle the production because of our quality work and 15-year track record of excellence," Jones said.
The Award presentation coincided with October's 70th annual observance of National Disability Employment Awareness Month, a time to celebrate the many and varied contributions of America's workers with disabilities.
Genesee ARC is one of 54 Chapters of NYS ARC, the largest provider of services to people with intellectual and other developmental disabilities in the nation, offering supports encompassing all aspects of a person's life from birth through end-of-life care.