September 26, 2013 - 3:20pm
Man seriously injured in altercation unconscious at State Street and Hutchins Place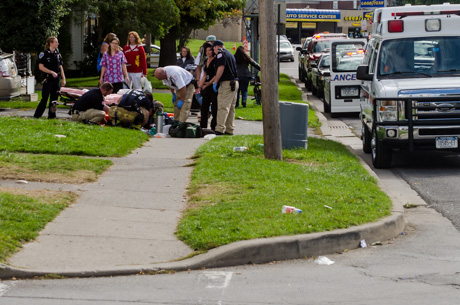 A seriously injured man is outside in the area of State Street and Hutchins Place in the city. He is unconscious and was possibly involved in an altercation. Police are on scene and Mercy medics are proceeding there.
UPDATE 3:29 p.m.: A suspect is in custody. At this point, police do not believe a weapon was used. A witness said the unconscious man was punched by another man.
UPDATE 3:34 p.m.: An ambulance is transporting the patient to the airport hangar so he can be flown by Mercy Flight to a hospital.
UPDATE 3:54 p.m.: Mercy Flight is transporting to Strong Memorial Hospital.
September 26, 2013 - 4:44pm
#2
since it takes two to tango, I hope they arrested him too....