March 7, 2016 - 3:08pm
Multiple injuries from dog bites reported in area of State Street and Hutchins Place in the city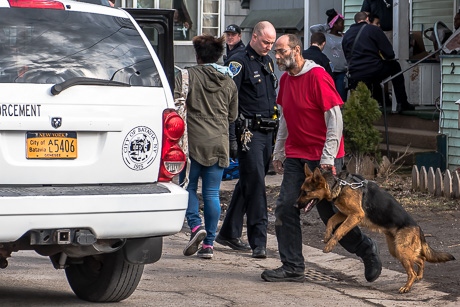 An unidentified friend of the dog owner is holding onto the dog who is said to have bitten two people a short time ago.
Mercy medics are told to stage in the area of State Street and Hutchins Place for a victim or victims with multiple dog bite injuries. Law enforcement is responding.
UPDATE 3:26 p.m.: A German shepherd allegedly got loose and bit two people. The wounds are described as superficicial, but one person was transported to UMMC for evaluation. The dog owner was not home at the time of the incident, said Batavia Police Sgt. Chris Camp. The incident is under investigation. A friend of the dog owner, pictured, said the canine is about 2 years old.
March 7, 2016 - 4:26pm
#3
I wonder what the people who got bit did to the dog to make it attack them. Most dogs don't seek people out to attack unless they feel threatened or harmed in some way. If you go to tease or hurt a dog in any way then you deserve to get bit.