August 9, 2019 - 12:37pm
NASCAR stars compete in Orange County Fair Speedway's Centennial races Aug. 15-17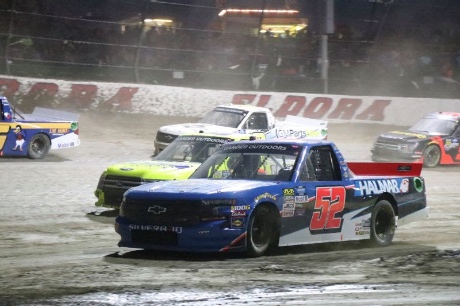 Submitted photo and press release:
MIDDLETOWN -- Racing's top talents are expected to be in Middletown, Orange County, at next week's "Centennial Race Weekend" on Aug.15, 16 and 17. Among the hundreds of competitors from the northeast will be a number of current and former NASCAR stars, all looking to make history, but also looking for that $100,000 to win check, the biggest ever purse in Modified Dirt Racing.
Hot off of a big win at Eldora Speedway, dirt racing star Stewart Friesen will be hauling out to Middletown after running with the NASCAR Gander Outdoors Truck Series in Michigan this Saturday night. Friesen hopes to roll up with 2 big consecutive NASCAR wins under his belt. As expected, joining Friesen at Orange County Fair Speedway is his fellow truck series driver and northeast dirt mod driver, Tyler Dippel, of Ulster County.
Both Friesen and Dippel race extensive schedules in both Northeast dirt racing, and NASCAR trucks, so it wasn't much of a surprise that the two would be in attendance for this 100th Anniversary event, the big shocker however was that Friesen would also be appearing with his NASCAR Truck in a special 10-lap exhibition with Sheldon Creed at the "House of Power"!
In addition to the 10-lap exhibition, Creed will also strap into a dirt modified and throw down with best of them for that $100,000 paycheck. Can this NASCAR standout (who just finished second to Friesen at Eldora) win big against the legions of local teams who have called OCFS home for decades?
Many OCFS hometown favorites have returned to Middletown after success in NASCAR and ARCA series racing. The 2017 OCFS track champ, Jimmy Horton, had a prolific ARCA career with wins at Daytona. Now in his 60s, Horton remains a fierce competitor at OCFS with his Halmar Race Team no. 43 modified and is expected to be a top runner at the Centennial Race Weekend.
Even OCFS all-time winner and current championship points leader, Brett Hearn, branched out and competed on the national stage with NASCAR at one point in his career.
Prolific dirt modified drivers like Tighe Scott and Gary Balough have earned legend status at Orange County Fair Speedway, as well as on the NASCAR circuit. Balough, who recently appeared on Dale Earnhardt Jr.'s TV show and Podcast, will be at the Centennial Race Weekend event with his no.112 "Batmobile" -- one of dirt racing's most dominant and innovative cars ever built.
In addition to his car(s) being on display, Balough will also hold a lecture on car building and will premiere the trailer for a documentary about his life and career as a driver and his downfall as a smuggler on Thursday, Aug. 15th, the first day of the three-day Centennial Race Weekend event. 
Since its inception in 1919, OCFS has been home to many drivers who have achieved national acclaim, many of the speedway's first competitors were Indy 500 drivers and winners.
Even into the 1960s with Mario Andretti and Bobby Allison racing in Middletown, OCFS has always been a place where the best of the best battled it out on the dirt.
Many of these DIRT & NASCAR racing heroes and more will participate in two massive autograph sessions at OCFS over the anniversary weekend, with free posters for fans while supplies last.
The Centennial Race Weekend is a once-in-a-lifetime event, your chance to see NASCAR stars RACE at your local dirt track, and meet them for an autograph in our "Champions Plaza" a space that will pay tribute to OCFS's rich, 100-year history.
For a full list of Centennial Race Weekend events, visit: orangecountyfairpseedway.net and check out the schedule or news sections.