September 28, 2016 - 1:57pm
National Grid donates $500 to United Way of Genesee County to help fight hunger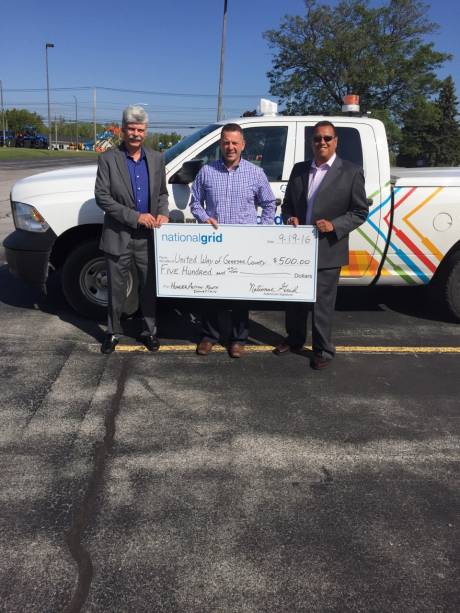 Submitted photo and press release:
To help in the fight against hunger this Hunger Action Month, National Grid announced $12,500 in donations to 10 food banks and hunger relief organizations throughout the eight counties of Western New York.

Recipient organizations included: Food Bank of Western New York, Friends of the Night People (Buffalo), Buffalo City Mission, St. Luke's Mission of Mercy (Buffalo), Heart Love and Soul Food Pantry (Niagara Falls), North Tonawanda Inter-Church Food Pantry, Rural Ministries "Friendly Kitchen" (Dunkirk), Community Action (Salamanca), United Way of Orleans/Albion Christ Community Kitchen (Albion) and United Way of Genesee County.

"There are too many in our local community who worry where their next meal will come from," said Kenneth Kujawa, regional manager for National Grid. "While the fight against hunger is year round, September's Hunger Action Month provides an opportunity to bring the issue top of mind and encourage donations and assistance to help food banks and pantries prior to the holiday season. Every little bit helps and National Grid is proud to play a role in local hunger relief efforts."

Last year, National Grid launched a companywide campaign to support Hunger Action Month. Regionally, a total of 343 pounds of food, enough to feed 285 families, was collected and donated to the Food Bank of Western New York.