August 14, 2015 - 2:54pm
Navy vet gets the outside of his house scrubbed by young volunteers in Byron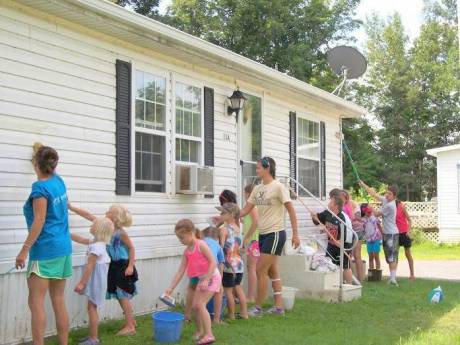 (Photo and story submitted by Pat Lamon.)
Byron's Summer Rec Program not only was founded by volunteers, but last week children attending that program did their own volunteering project. The children were under the watchful eye of "Miss Emily" Van Eenwyk, their rec leader from the very start.
The idea of giving back to the community started with founder, Laura Platt. The rec program was a vision of Platt's who saw a vital need for some organized activities and fun for the children in her little town of Byron. Eight years ago and with the help of Debra Leaton, town clerk, Platt's idea was realized.
"The program has benefited from so much community support," Platt said.
The town's children, most of whom are able to walk to the program, which is located in the park behind the Fire Department in Byron are engaged in organized activities from 10 a.m. - 2 p.m. Monday – Friday.
"This year we were lucky enough to offer free lunches to the kids!" Platt said.
The Byron-Bergen School cafeteria received a grant allowing them to provide the meals and Platt calls in a count in the morning and then picks them up at the school. She delivers the healthy meals to the site at noontime.
In addition to the usual supervised activities, the children also attended several field trips including, visiting the Erie Canal, the Genesee County Park, and Fantasy Island. They also went bowling and made a few walking trips to the park in town.
"Volunteerism got this program up and running, and it's important to me that children experience the joy of giving back," Platt said.
So every year she and Miss Emily find a worthy project. On Aug. 6, 19 children ranging in age from 5 to 15 and three rec leaders walked a quarter mile to Byron Mobile Home Park. On the way they passed through the cemetery where they spotted a frog, and lots of snails and slugs which they all examined.
They finally came to the home of Charles Lyman, a Navy veteran in his 80s. Once there the group proceeded to clean the moss and debris from the siding of his house. When the group took an ice cream break Jordyn Platt, one of the rec leaders, explained that she had once lived in that same house. Mr. Lyman couldn't make it home due to a late running appointment, but he later called Platt to thank everyone for such a great job.