Image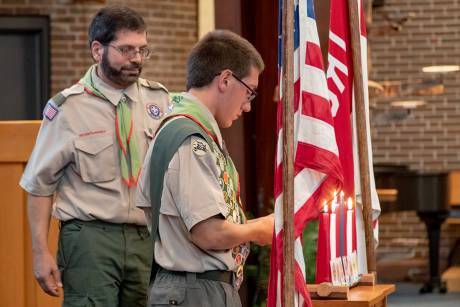 Photo: Thomas Ognibene, right, of Batavia Boy Scout Troop 6006, lights the Eagle Candle during his Eagle Scout initiation ceremony on Sunday. His father, Steve Ognibene is standing behind him. Photos courtesy of Rick Franclemont.
Here's the text of the speech that Thomas Ognibene, of Batavia, gave after being designated an Eagle Scout on Sunday:
"Wow, this is great. It is amazing how much support (I get) from family and friends that are here today. I'd like to go over some highlights of my Boy Scout journey.
First of all, I'd like to give thanks to the First United Methodist Church for supporting our troop and two years ago when we had our 100 year celebration. That was a milestone that not many troops accomplish.
Starting six years ago, back in March of 2012, Mr. and Mrs. Bartz introduced me to Scouting at a Cub Scout meeting by the invite of Shane Moak and Pack 69. And with the help of Mr. Crowley, those leaders gave me a base foundation, to get me quickly to cross over to become a Boy Scout within one month while I was in fifth grade.
When I came into Troop 69, I met Evan Bartz who became my friend and today this friendship continued through Scouts and school. We went to Brown Sea, which is a great experience, which every incoming Scout should attend right away their first summer camp. Along my journey I had to make a transition from Troop 69 to Troop 6. I felt like I needed to get a new direction in Scouting and when I did it was the help of the leaders that are here today.
When I came to Troop 6006, Dylan Scroger was the Senior Patrol Leader, under his leadership along with the new boys who welcomed me in, I began my next phase of Scouting. With there teaching and direction, I earned Second Class.
The biggest challenge I had to overcome in Scouting was one of the requirements for my next upcoming rank, First Class, and that was to successfully complete the BSA swimmer test. I had many challenges leading up to this and with the help of Mr. Mountain, Mr Geiger, and Mr. Jess Markel who came to my assistance, after many months of training going back and forth in the pool, practicing the breaststroke and resting backstroke, I was able to complete the BSA swimmer test and since then I have been a great swimmer ever since and achieved First Class Scout.
As a Star Scout, one of my memorable moments was when Mr. Gaus had this great steak that he cooked and little did I know later on, when eating a third serving, that it was deer meat. Another moment was when my dad got real excited when Mr. Grover offered him a Paula's Donut, and when he opened the box there was nothing in there! There are many humorous moments in Scouting that I will always cherish. Along these campouts, Mr. Gaus helped me with different merit badge requirements that later on helped me achieve Star Scout.
Over the years, I was heavily involved in the popcorn sales that benefited the counsel and helped raise money toward summer camps, going to the National Jamboree, and other activities. I'd like to thank my customers who supported me over the years and my dad, 'the popcorn kernel,' who took me door-to-door to sell popcorn.
As a Life Scout, three other boys from this troop and I attended the 2017 National Scout Jamboree held at the Summit Bechtel Reserve in West Virginia.
In Scouting, as in life, adventure takes on many meanings: high adventure, learning, camaraderie, and simply being part of something bigger. 'Live Scouting's Adventure' was the theme for the jamboree that year. The four of us met people from all over the country, activities we did consisted of patch trading, zip lining, mountain biking, shooting sports, scuba diving, and so much more.
The experiences we had will stick with us forever and we were able to share this with our troop at the end of the summer that year, and told the boys that It is worthwhile to attend if they wish to do so when the next jamboree is taking place.
About a year after the jamboree, I continued to work on requirements and merit badges for the rank of Eagle Scout, I had to plan, develop, and give leadership, to a service project. That's when I first met with Mr. Jacobs, the buildings and grounds manager at John Kennedy School here in Batavia.
I came to him with a plan to expand the present memorial garden, which is behind the school where the bus loop is, that had two trees and a shrub already planted there. The garden was originally created in memory of Mike Houseknecht and the Raines teachers. In this current project, I expanded and enhanced the garden which included adding dirt, mulch, flowers, another shrub, a stone wall, a brickwork of pavers on the outside borders of the garden, and a small square paver area in front of the stone wall, which has a plaque in the middle of that area.
The garden is a symbol of remembrance to the people who have played an important role and dedicated their time to help the students at John Kennedy School. I'd like to thank my fellow scouts, adult leaders, and members of the community who came to donate their time, on that day of the project.
Before I conclude my speech, I would like to talk about someone who had a major impact on me through the scouting journey. During my time as Senior Patrol Leader, Webmaster, and other leadership positions that I held, this adult leader has given me the instruction, guidance, and advice throughout my time in the Boy Scouts.
What I have learned from him, has shaped me into becoming a better individual, scout, friend, and family member and will continue to throughout the rest of my life. This adult leader is most deserving of the mentor pin. I would now like to give the mentor pin to my Scoutmaster, Mr. Ron Bernard.
Once again, I would like to thank each and everyone of you for coming out today, and I hope your all enjoy the rest of today's ceremony."
Image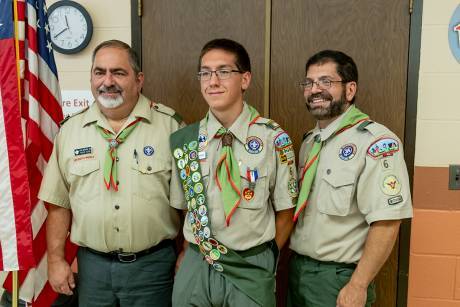 From left, Scoutmaster Ron Bernard, Thomas Ognibene and Steve Ognibene.
Image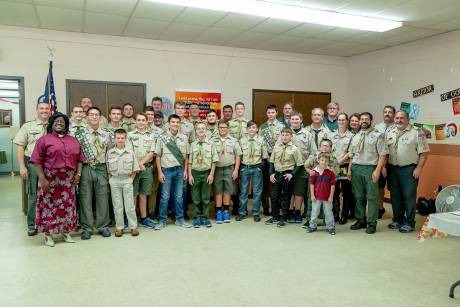 Boy Scouts of America Troop 6006.
Image