July 20, 2018 - 3:19pm
No injuries reported in crash at Route 262 and Byron Road, but student memorial 'obliterated'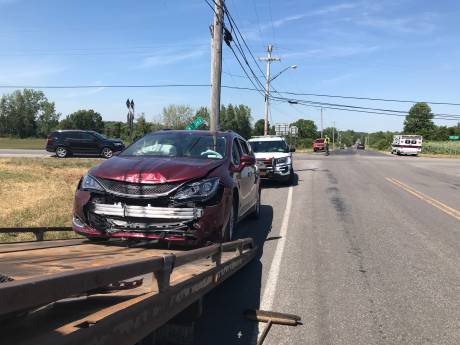 Genesee County Sheriff's Sgt. Thomas Sanfratello was on Route 262, heading to the barn fire on Terry Street in Byron when his unmarked SUV was struck by a van traveling on Byron Road. The impact pushed the unmarked vehicle into a utility pole.
No one was injured.
Sanfratello had his emergency lights flashing and siren blaring when he slowed at the intersection, but the van's continued through the intersection. The male driver of the van was evaluated at the scene and released. Three dogs that were traveling in the van with him were likewise uninjured.
A memorial at the utility pole that was struck -- to two Byron-Bergen School students killed in a crash at that intersection years ago -- was "obliterated."
UPDATE 3:50 p.m.: Reader Valerie Patrick informs us that the memorial was for two students -- Christopher and Victoria Claus.
July 20, 2018 - 3:46pm
#1
TWO STUDENTS: Christopher and Victoria Claus
July 20, 2018 - 5:52pm
#2
That spot is a crash magnet. It became a 4-way stop because of all the accidents. It's not even a blind intersection.