November 4, 2017 - 5:28pm
Outstanding Byron-Bergen vocalists to join elite RPO Festival HS Chorale for gala holiday performances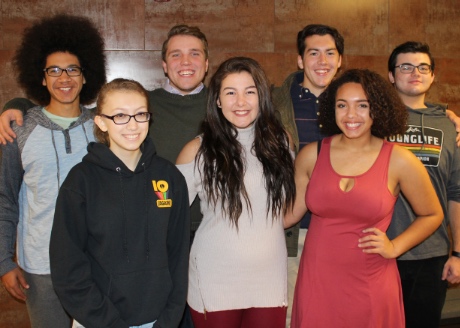 Byron-Bergen's top vocal talents prepare for their debut with the RPO Festival High School Chorale at the season's Gala Holiday Pops concert. From left, Jerome Spinks, Esther Wilkins, Mason Fuller, Stephanie Buell, Josh Phelps, Hannah VanSkiver and Brian Ireland. (Not present: Sydney Brown)
Submitted photo and press release:
The Rochester Philharmonic Orchestra's Festival High School Chorale, a group of nearly 200 of the finest vocal talents from more than 30 high schools in our seven-county area, has been part of the popular Gala Holiday Pops concerts every year since 1994.
This year, Byron-Bergen Jr./Sr. High School will be represented in the Chorale by eight young vocalists: Hannah Van Skiver, soprano; Esther Wilkins, soprano; Sydney Brown, alto; Stephanie Buell, alto; Joshua Phelps, tenor; Jerome Spinks, tenor; Mason Fuller, bass; and Brian Ireland, bass.
"This is a great group," said Byron-Bergen's Vocal Music Director Laurence Tallman. "They have strong, expressive voices, wonderful musical skills, and unusual depth and maturity. Each one is positive, enthusiastic, and committed to being the best they can be."
The Festival High School Chorale gives young singers an opportunity to take on a program of challenging winter and holiday-themed music, under conductor Jeff Tyzik with co-directors Amy Story and Harold McAulliffe, and accompanied by the full Rochester Philharmonic Orchestra. Performances will feature guest Denzal Sinclaire, one of Canada's most popular jazz vocalists who is ranked among the finest jazz singers of his generation.
The performances will be held in Kodak Hall at the Eastman Theatre at: 7:30 p.m. on Thursday, Dec. 21; 8 p.m. on Friday, Dec. 22; and 2 p.m. and also 8 p.m. on Saturday, Dec. 23.
Tickets are available online at www.RPO.org.