November 16, 2018 - 1:41pm
Pavilion students pony up $723 for Sheriff's Office K9 Fund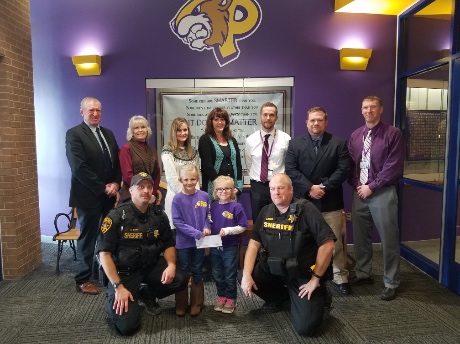 Submitted photo.
On Wednesday, students at Pavilion Central School presented a check for $721 -- plus gave two one-dollar bills in cash -- for the K9 Fund to help the Genesee County Sheriff's Office buy a crime-fighting service dog. A total of $723!
The students held a fundraiser on Nov. 5, which was designated "Hat Day." Students donated a dollar to participate in Hat Day and and staff made a donation so they could "dress down" in casual clothes that day.
Pictured at the check ceremony are: Back row, from left -- Chief Sheriff's Deputy Jerome Brewster, Kris Hoffmeister, Ashley McMaster, Sheila Eigenbrod, Charles Martell, Ken Ellison and Jon Wilson. Front row, from left -- K9 Handler / Deputy Christopher Erion, students Molly McMaster and Kennedy Quigley, and School Resource Officer / Deputy Cory Mower.