September 11, 2018 - 2:22pm
PCD Kiwanis to hold 11th annual Car Cruise and Fall Festival Sunday at Pembroke Town Park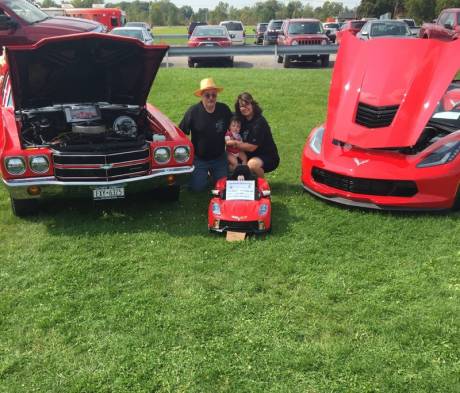 Submitted photo of John and Charlene Drogi with their little grandson, Mason Gowenlock.
Press release:
The PCD Kiwanis 11th Annual Car Cruise and Fall Festival will be held from 11 a.m. to 4 p.m. on Sunday, Sept. 16th, at the Pembroke Town Park, rain or shine. It is located at 8799 Alleghany Road (Route 77 next to the high school).
At 9 o'clock that morning, the 2018 Unique Dash Plaque will be revealed; cruise registration also begins at 9.
There is something for all ages: more than 40 vendors, food trucks, food booths, music, kids games and activities as well as a bounce house/slide for the kids.
This year a train will provide rides for all ages.
Usually, 200 cars register for the show and each year it continues to grow. If you would like to preregister your car, please download the application from www.pcdkiwanis.com for the discounted registration fee. Preregistration fee is $10; day-of-event fee is $15 per vehicle. (Includes free ticket for a hot dog and pop.)
Vendors…there are only a few days to complete the registration form and sell your goods at this awesome event. The vendor form is also available on the website.
Many people come to see the HUGE Basket Raffle that Crossroads House has at this event. There are more than 50 baskets. This year Kiwanis is going to raffle a party package that consists of a 10'x10' pop-up tent, two XL quad chairs, a stainless steel tabletop grill, cooler filled with many goodies, and a $50 gift certificate from M&M Meats and Archery. There's also a unique Wine Raffle this year.
Trophies will be awarded for vehicles at 2:45 p.m.
Please mark your calendar, and if you need to register your vehicle, do so right away!
Any questions, please contact John Drogi at (716) 937-9918, or email:  [email protected]