September 8, 2019 - 1:06pm
Pembroke Girls Varsity Volleyball Team takes second in Albion tournament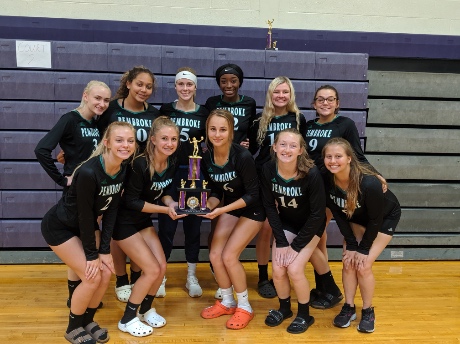 Photos and information from Mary Easterbrook:
The Pembroke High School Girls Volleyball Team took second place in the tournament Saturday against Albion.
Pembroke went 4-2 in brackets beating Albion and Charter School of Applied Tech (CSAT) in Buffalo, and losing to Akron putting them into the gold playoffs.
They beat Medina in the semifinals 27-25 and 25-19, taking them into the Championships where they had a hard loss to Akron 25-18 and 30-28.
Middle hitter Dekari Moss got all tournament team with 22 kills and an amazing 16 solo blocks.
Setter Olivia Mets has 26 assists while outside hitter Emma Gutowski had six aces and eight kills.
The stats don't speak for the scrappy smart plays the Lady Dragons as a team made to come out with some big wins!