September 27, 2020 - 12:01pm
Percy's Z Tam in seasons best at Batavia Downs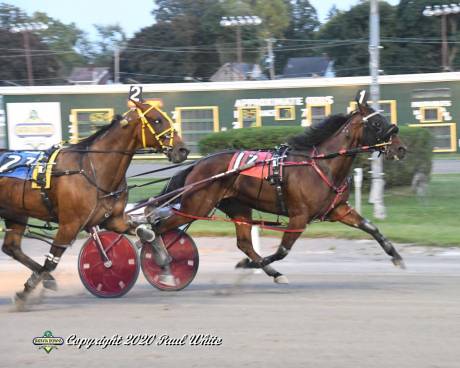 Percy's Z Tam in the lead with driver Jim Morrill Jr.
By Tim Bojarski, for Batavia Downs
The last time Percy's Z Tam drew post one was March 14th and he took full advantage of his starting position as he won the featured $8,500 Open I pace at Batavia Downs on Saturday evening (Sept. 26). 
Long Train Runnin (Denny Bucceri) bolted the wings and overtook the point by the quarter in :27.2. With Percy's Z Tam (Jim Morrill Jr.) and Mr. Euroman (Billy Davis Jr.) following closely in line, Long Train Runnin paced unimpeded to the half in :56.4 and would not feel the heat until midway up the backstretch. That's where Morrill pulled Percy's Z Tam and took the lead at the three quarters, rounded the last turn and took a two-length advantage into the stretch. He then paced sharply to the wire, holding off a late rush from Mr. Euroman to win by ½ length in 1:53.3, which was a new seasonal mark. 
It was the sixth win of the year for Percy's Z Tam ($5.30) who is owned by Mike Torcello and trained by Gerry Sarama. 
In the $7,500 Open II pace, Harry Hoo N (Shawn McDonough) followed Under Paid (Ray Fisher Jr.) all the way to the top of the stretch where he tipped, took the lead and held it to the wire where he won by ½ length in 1:54.2, which was his best effort this year. 
Harry Hoo N ($11.60) scored his second win in the last three starts and the fourth win of the year for owner Harry Wortzman. McDonough also trains the winner. 
Drew Monti was the leading reinsman on Saturday winning three races on the card. Billy Davis Jr., Dave Mcneight III, Jim Morrill Jr. and Shawn McDonough all visited the Purple Haze winner's circle twice. McDonough also registered two wins on the training side as well.
Racing resumes at Batavia Downs on Wednesday at 5 p.m.