November 21, 2018 - 3:18pm
Pie in the Face smackdown at Batavia Academy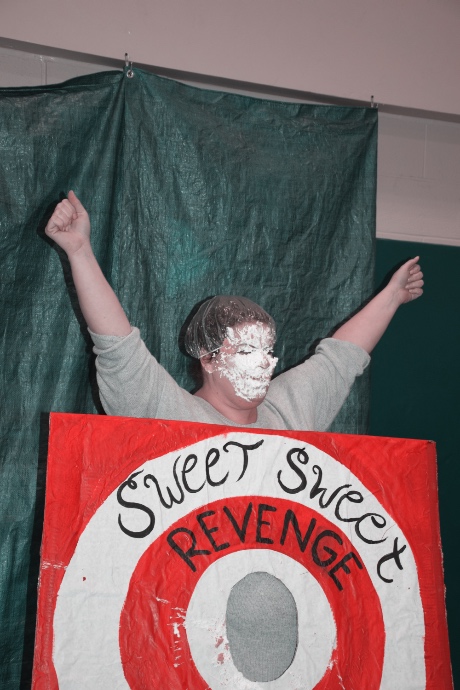 Above, Rachel Slobert, Batavia Academy principal, celebrates being first to be successfully pied.
Submitted photos and press release:
Every fall, Batavia Academy students enjoy a special Thanksgiving dinner. This year, students worked together to raise funds for this luncheon by collecting cans and bottles, and offering a pizza sale as well as an in-school snack cart sale. New this year, the students organized a Pie the Face event.  
Students and staff paid to throw a whipped cream pie in the face of Batavia Academy teachers, administrators and campus administrators. This was the first time such an event was held and it was a great success!
Much laughter and many cheers occurred as Batavia Academy teachers and staff, along with Rachel Slobert, Batavia Academy principal; Jon Sanfratello, executive principal of the Batavia Campus; and Chad Cummings, school resource officer of the Batavia Campus, took their turns getting "pied."
"This was a great fundraiser that raised $120 for our Thanksgiving dinner. We hope to make it an annual event," said Rachel Slobert, as she carefully wiped whipped cream from her face.
About Batavia Academy
The Batavia Academy is an alternative education program that provides a small, nurturing environment, which gives each student the maximum amount of attention necessary to improve academic and social skills.
Programs have been specifically designed to provide an educational option for students from our component school districts in grades 7-12 whose needs are not met by our traditional secondary schools. Teachers assist students in attaining a high school diploma through maintaining the same academic requirements as home schools.
The Batavia Academy is set on the Genesee Valley Education Partnership campus located in Batavia.
The Partnership operates as a Board of Cooperative Educational Services providing shared programs and services to 22 component school districts located in Genesee, Wyoming, Livingston and Steuben counties in New York State.
Below: Chad Cummings, Batavia Campus school resource officer, gets a pie in the face. Nice mustache!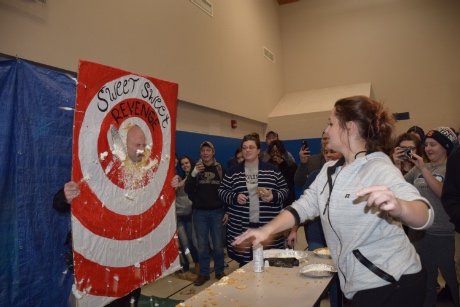 Below: It's a direct hit! Jon Sanfratello, Batavia Campus executive principal, gets a pie smash.