May 19, 2016 - 1:36pm
Plane makes emergency landing near airport on Saile Drive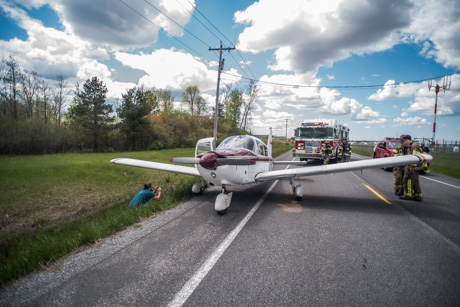 A WBTA reporter confirmed with Genesee County Airport authorities that a plane made an emergency landing, not at the airport, but on Saile Drive itself, within the last 10 20 minutes. No word on any injuries or other details yet. Town of Batavia Fire Department responded to the scene.
UPDATE 1:50 p.m.: Troopers are waiting to confer with FAA officials before releasing information about the incident.
UPDATE 1:52 p.m.: East Saile Drive will be closed between Bank and State streets until an FAA rep can come and investigate the scene, which would take a couple of hours.
UPDATE 2:02 p.m.: Trooper Daniel Hollands, of NYSP Troop A, Batavia, said law enforcement responded to Saile Drive after receiving a call from the Emergency Dispatch Center at 1:15 p.m. that a plane landed on the roadway on Saile Drive. They arrived to find the pilot and sole occupant uninjured. No word on who contacted the dispatchers. It will be up to the FAA to release the ID of the pilot and other pertinent information, Hollands said.