April 18, 2018 - 5:09pm
Possible serious injury accident reported on West Main Street, Corfu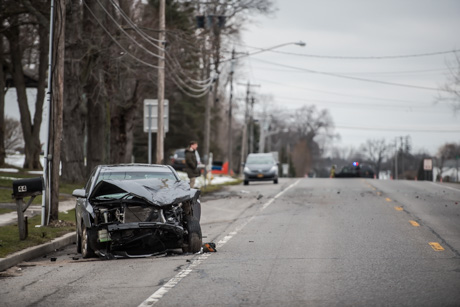 A two-car crash is reported at 58 W. Main St. in Corfu and there are possibly serious injuries. Corfu Fire Department and Mercy medics are responding. A first responder on scene says one lane is blocked and one person is still inside one of the vehicles.
UPDATE 5:13 p.m.: Mercy Flight #8 out of Batavia is on ground standby.
UPDATE 5:15 p.m.: Corfu command asks law enforcement to stop traffic at Route 33 and Prospect Street. A second ambulance is en route. Mercy Flight is called to land at the Intermediate School parking lot at 58 Alleghany Road, Corfu. A Corfu fire crew is responding to the school to serve as ground contacts.
UPDATE 5:23 p.m.: The patient inside the vehicle has been extricated and is being put inside the ambulance.
UPDATE 5:25 p.m.: A third ambulance, from Darien, is called to the scene; serious injuries confirmed. "Per Squad One canceling Mercy Flight."
UPDATE 5:28 p.m.: The Corfu fire crew called to the school is rerouted to the scene, which is east of Fieldcrest Drive.
UPDATE 5:31 p.m.: Sheriff's deputies will be shutting down Crittenden Road in Erie County, and Genesee Street at Route 33 and at Route 77 to conduct an investigation.
UPDATE 5:37 p.m.: Crittenden is closed at Genesee Street in Erie County.
UPDATE 5:43 p.m.: Four patients are being transported to ECMC.
UPDATE 5:50 p.m.: Fire Police are also closing traffic at Lake Road, Fargo Road and County Line Road.
UPDATE 6:25 p.m.: A total of three vehicles were involved in this accident, including a pickup truck.
UPDATE 6:53 p.m.: Genesee County Undersheriff Gregory Walker said the preliminary investigation indicates that a gray Hyundai Sonata traveling at a high rate of speed was eastbound on Route 33 when it rear-ended a gray Honda that was also eastbound on 33. The Honda then struck a westbound black pickup truck. The four patients (three drivers and one pickup truck passenger) were all taken to ECMU, three for evaluation of non-life-threatening injuries. The driver of the Honda that was rear-ended has serious injuries, which is why there were road closures and the Crash Management Team was called out to investigate. The Sonata driver is described as a male from North Carolina in his mid-20s. He will be charged; speed and alcohol are believed to be factors in the accident; also marijuana was allegedly found in the Sonata, Walker said.
UPDATE, Thursday, April 19: The seriously injured driver of the 2009 Honda has been identified as James M. Hoskins, of Corfu. The driver of the 2008 Hyundai Sonata which rear-ended the Honda is Jacob J. Szumigala, of Oakfield. The pickup truck was driven by Gerald D. Sanders; Lynn Sanders was the passenger; both occupants of the truck live in Batavia.
Szumigala was allegedly driving under the influence of alcohol and drugs. He's been charged with DWI. Several charges are pending completion of a toxicology report and additional investigation. 
UPDATE 3:08 p.m.: Hoskins is listed in fair condition at ECMC.