December 15, 2015 - 12:28pm
Rochester bike shop donates 20 bikes again this year to Genesee Arc for Christmas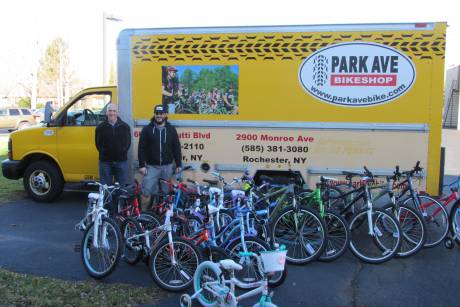 Submitted photo: Park Avenue Bike Shop owner, Andy August (left), and Inventory manager Alex Oliveri (right), delivered 20 bicycles to the Genesee ARC Community Center.
Press release:
For a second year in a row, the Park Ave Bike Shop of Rochester made a Christmastime visit to Genesee ARC -- last year, with 20 bicycles, this year with 20 more!
Bike Shop owner Andy August said he enjoys playing "Santa's helper" and that these types of deliveries are the best!
"The kids are going to love these bikes," August said.
The bicycles are courtesy of two Rochester area donors who have befriended Genesee ARC and support its mission of serving children and adults with intellectual and developmental disabilities.
As a friend of the donors, August said, a donation of such magnitude matches their giving spirit.
"They are generous, unassuming individuals with big hearts, that just want to give back to the community," he said.
"We are thankful the donors believe in Genesee ARC and are helping to make some Christmas wishes come true," said Genesee ARC Director of Development Shelley Falitico. "Thanks to Andy August and Park Ave for working with us to match bicycles to recipients and for delivering this amazing donation in time for Christmas."
Three of the bicycles have been earmarked for Rainbow Preschool operated by Genesee ARC's sister Chapter, The Arc of Orleans County. The two chapters share Donna Saskowski as executive director and are undergoing steps to eventually unify. 
"This is such a special gift to our agency and the children and adults we serve," Falitico said. "Our donors, who prefer to be unnamed, have helped us in so many ways already, supporting agency events and funding equipment and program items from our wish list. It will be a very special Christmas for so many children, thanks to their generosity!"
December 16, 2015 - 12:50pm
#1
Our son received one of these bikes last year and loves it! The price tag on it was $300, so they're not cheap bikes. Thanks to Park Ave. Bike Shop and the donors for a great gift!