July 26, 2018 - 9:50pm
Semi vs. car accident reported on Main Road in Corfu, unknown injuries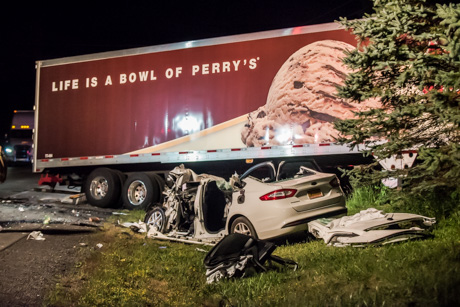 A two-vehicle accident -- possibly between a semi-truck and car -- is reported at 2033 Main Road in Corfu. Unknown injuries. Mercy Flight is put on standby. The location is between Cleveland and Indian Falls roads.
Pembroke and Indian Falls fire departments are responding, along with Mercy medics.
UPDATE 12:15 a.m. (By Howard): The patient, the driver of the sedan, was transported to ECMC by Mercy Flight for treatment of injuries, including a broken leg, and evaluation of possible internal injuries. The Sheriff's Office Crash Management Team is conducting an investigation into the accident. There is little that is known about it so far. The Perry's truck was westbound and the sedan was eastbound. A gouge in the roadway indicates the collision occurred in the eastbound lane. The truck driver, who was not injured, told deputies he swerved left to try and avoid the sedan. 
UPDATE 2:04 a.m.: Route 5 is open. All responding fire units back in service.