September 19, 2015 - 3:55pm
Somewhere over the rainbow in Batavia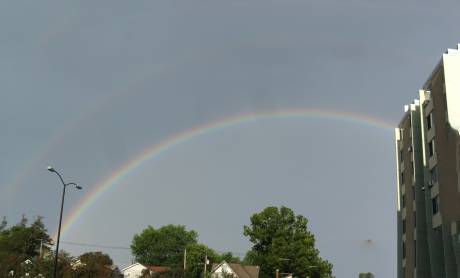 Reader Kyle Couchman sent us this "composite" photo he took of a rainbow in Batavia this morning between 8 and 8:30. He says it's unusual because it preceded the rain instead of vice-versa.
September 19, 2015 - 5:28pm
#1
Very nice, Kyle. You can almost see another one just over the top of it. A double rainbow. How interesting that this was before it rained. How cool. Great pic and thanks for sharing!
September 20, 2015 - 6:04am
#2
Its actually a composite of 2 pictures. That rainbow stayed almost 1/2 an hour and had varying intensity at the time. This one was for the guy I take care of, I set it so the Rainbow ended at his window.
For 10 min it was a double with a third one almost visible.... Nice start to a Sat morning