February 20, 2018 - 1:55pm
St. Paul Lutheran School in Batavia will hold Open House March 5, registration underway for 2018-19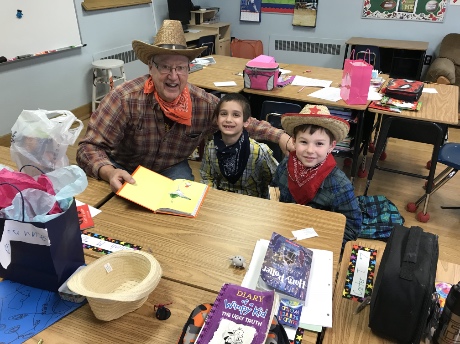 Above, participants in a Western reading rodeo with a prayer partner.
Submitted photos and press release:
St. Paul Lutheran School in Batavia will hold an Open House from 9:30 to 11:30 a.m. on Monday, March 5.
Registrations are now being accepted for the 2018-19 school year.
The school is located at 31 Washington Ave. in the city.
If you have any questions please call the school office at 
(585)-343-0488
.  
About St. Paul Lutheran School
Pre-K through fifth grade
Student Body: 60
Average class size: 13
Four full-time teachers
Two support staff
One nurse
New York State certified teachers
Speech, Occupational & Physical Therapists available Pre-Kindergarten to Grade 5
Instructional technologies: Laptops in 4th & 5th Grades, Mimeo Boards in all elementary classrooms
Hot Lunch Program on Wednesdays
Spanish classes for Kindergarten to Grade 5
Early drop off at 7:45 a.m. – School begins at 8:15 a.m.
Busing available from all 11 districts: Albion, Alexander, Attica, Batavia, Byron-Bergen, Elba, Holley, LeRoy, Oakfield, Pavilion, Pembroke & Warsaw
For more information about St. Paul Lutheran School, click here.
Below: St. Paul students during a visit last month at the school by the "super heroes of our community" -- firefighters who drove over in a truck from city fire headquarters.